More Power and 10,000 Hours of Dry Running
The new product families SMF and SMG, with which the Wuppertal pump specialist ASF Thomas has broadened its SM4 product line feature improved power characteristics and 10,000 hours of dry running.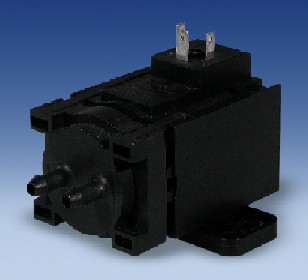 SMF
By carefully selecting the wetted materials the linear pump can now be used unrestricted in gas as well as liquid applications. Hereby a newly designed clip effectively prevents the transmission of vibrations and guarantees an absolutely smooth operation.
Two different effective diaphragm diameters ensure that the pumps are available with two distinct power ratings. The attainable pressures are greatly improved by using a permanent magnet within the armature.
An electronic control unit enables the pumps to be electronically clocked and they can be set to operate exactly at the required working point. Thus the liquid models (SMF2/SMF4) become cost efficient dosing pumps. The individual dosage volume can easily be adjusted by restricting the piston stroke. In addition a flow stop prevents leakage after each tuned impulse. Finally, the liquid pump reaches flow rates from 140 to 200 ml/min and the pressure reaches 12 m water column. The suction height is up to 7 m.
The performance values for the gas pumps (SMG2/SMG4) now range from 1,4 to 1,6 l/min and –350 mbar up to 450 mbar relative pressure.
When operating in the dry running mode, the pumps have a life expectancy of 10,000 hours and can even reach a life time of 20,000 hours when used with liquids. The new linear diaphragm pumps are utilized in the environmental and analysing industry, in industrial and household goods as well as the food and beverage industry.