Monitoring System for Latin America's Largest Power Utility Company
Eletrobras Eletronorte, Latin America's largest power utility company, is using Voith's monitoring system OnCare.Health Hydro at the Belo Monte hydropower plant in Brazil.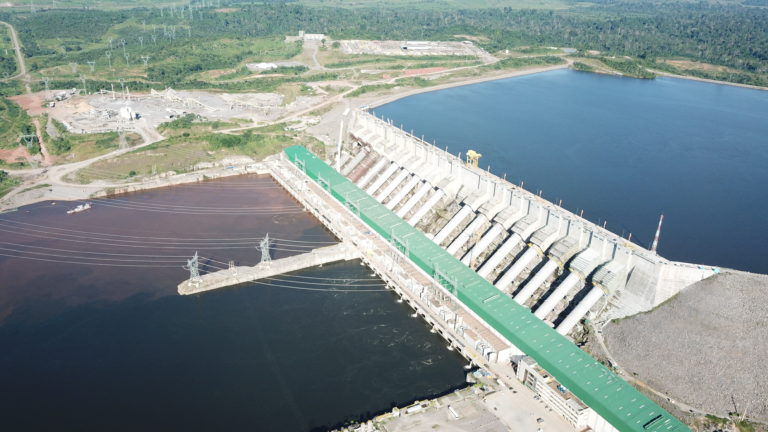 Voith's monitoring system OnCare.Health Hydro was successfully implemented at the Belo Monte hydropower plant. (Image source: Voith GmbH & Co. KGaA)
Commissioned in 2019, the system provides highly accurate data analysis and machine diagnostics as well as real-time monitoring of different components in the plant. A unique deep database and user-friendly visualization thus allow for early error detection and condition-based maintenance.
As majority shareholder of the Norte Energia consortium, which owns the Belo Monte power plant, Eletrobras Eletronorte carries out the operation and maintenance at Belo Monte. The facility is comprised of countless machines and components, many of them from different suppliers.
To ensure smooth operation and reduce downtime to a minimum, it is necessary to assess and compare the condition of the machines and the performance between power units. Voith has been both a trusted partner to Eletrobras Eletronorte as well as a supplier of various state-of-the-art components. As part of a service contract, Voith was tasked with continuous monitoring of the plant's machine data with the help of OnCare.Health Hydro.
The customer is completely satisfied with the system's installation and its operation: "I have been working with monitoring systems in Eletrobras Eletronorte hydropower plants for more than 12 years, and I have never seen a system that is as easy to use and as reliable with large amounts of data as OnCare.Health Hydro," says Angelo Torres Madureira, Mechanical Maintenance Engineer at Eletrobras Eletronorte.
Complex machine data: Integration of more than 6,000 monitoring signals
Voith experts handled the entire implementation, starting with the overhaul of the power plant's software, its configuration and testing. All in all, they were successful in integrating more than 6,000 monitoring signals from existing machines and components. In addition, they inspected and fine-tuned the established hardware.
In spite of the very tight schedule, the implementation proceeded smoothly and the Voith experts were able to connect and integrate every kind of measured value in the OnCare.Health Hydro monitoring system – from vibration, air gap and partial discharge to gas insulated substation (GIS) and transformer signals.
Effective visualization and improved machine availability
After the system's successful commissioning, operators at Eletrobras Eletronorte have been able to correlate information between the power units by using a unique visualization tool. In addition, they gained access to new actionable information to increase machine knowledge. The results: Reduced operational risk, improved machine availability and reduced effort for maintenance checks. By significantly increasing efficiency, the plant's overall productivity was increased and costs lowered.
"One of the machines showed a relative vibration that was above the acceptable level in the generator guide bearing," explains Wladyslaw Jan Szkruc, Maintenance Engineering Division at Eletrobras Eletronorte, one of the specific issues that OnCare.Health Hydro could address. "Voith's monitoring system was able to verify that this vibration occurred when the machine exceeded 590 MW. We sent the data to the manufacturer to analyze the problem and find a solution. In the meantime, it was not necessary to stop the machine, as we knew that it is enough to limit it to 590 MW. This was only possible thanks to the monitoring system."
In this example, the benefits of OnCare.Health Hydro to Eletrobras Eletronorte were two-fold, as Wladyslaw Jan Szkruc confirms: "First, the monitoring system identified and warned of the problem, thus preventing serious mechanical damage that could have been caused by operating the machine with such high vibrations. Second, it was possible to further generate electricity with the machine and to stop it only at the necessary time to fix the problem."