Modine Introduces Its Full-line Geothermal Heat Pump Series
Modine's Energy Star-rated residential and light commercial geothermal product line includes water-to-water, water-to-air, water-to-air/water combination, and split condensing/air-handling systems.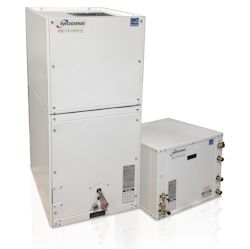 Modine
All Modine geothermal systems feature the Orb controller, providing quick start-up right from the full color LCD touchscreen with control of up to four forced-air zones as standard, real time displays of EER and COP estimates, water and air temperatures, and easy troubleshooting. All systems use R410A refrigerant and offer a 10-year limited warranty.
Water-to-water residential and light commercial models are available in reversible and non-reversible sizes from 2- to 12-ton sizes.
Water-to-air models range in size from 1.5- to 6-ton units in both vertical and horizontal configurations. Compact commercial systems are also available for water source or geothermal applications.
Water-to-air/water combination units provide forced air heating and cooling and also the ability to provide heat for radiant-heated floors, domestic hot water, pools/spas and snow melting. They are available in 3- to 6-tons in both vertical and horizontal configuration.
Split condensing/air-handling systems, from 2- to 6-tons, are well-suited for new and retrofit applications.
Modine offers a number of options including a desuperheater which provides supplemental domestic hot water; cupronickel heat exchangers for applications where harsh water conditions exist; tin-plated coils to eliminate formicary corrosion; and electric heating for auxiliary back-up heat.