Modern and Sustainable Shopping Center Has Opened in Uruguay
The city of Las Piedras is a fast-growing urban center, as a result, the Montevideo metropolitan capital development, where the new Las Piedras shopping center is located, was inaugurated in May. The main features of the mall are; 38,000 sqm, a hundred shops, five cinemas, a hypermarket, a large food court with twelve dining options and a capacity of six hundred people, and a large covered parking area are, which has generated over 1,200 new jobs.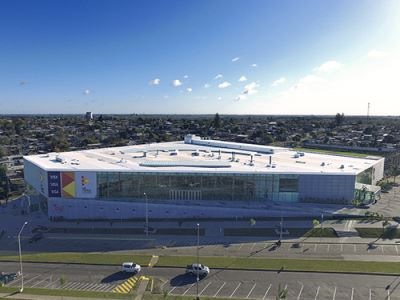 Mall: external view (Image Climaveneta)
From an architectural point of view, the building was developed on three levels, the basement is dedicated to parking, while the other two are for commercial and recreational activities.
Sustainability is one of the key concepts of the new building. Great importance has been given to lighting, through an extensive use of natural light in addition to the artificial LED, to the rational use of water thanks to a dual supply system that divides drinking water from the one for service purposes. Even the HVAC system has been designed and built with a strong focus on sustainability and energy saving. Climaveneta high efficiency units have been selected to maintain perfect comfort inside the mall: 10 WIZARD-TA-7500 CA air handling units with a total air flow of 244.035 m3 and 3 FOCS2-W / CA 4502 condensed water chillers with a total cooling capacity of 3,417 kW. The building also has a free-cooling system which takes advantages of favorable outdoor air temperatures to support the HVAC system and is equipped with a vertical garden covering the exterior facades as an ornamental function and as passive protection for the building.