Mobile App Brings Industry 4.0 to All Pumps
To help plant operators increase productivity and transparency as well as improve competitiveness across the entire life cycle, pump manufacturer KSB has developed an app for smartphones and tablets that can determine the efficiency of fixed-speed pumps in just 20 seconds.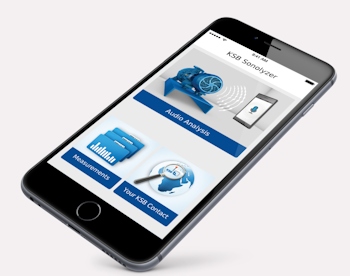 Mit der Mobile-App "KSB Sonolyzer" können Anwender in 20 Sekunden die Effizienz von ungeregelten Pumpen mit Asynchronmotoren analysieren.
The KSB Sonolyzer app is based on an algorithm that has been integrated in PumpMeter units for five years now, of which well over 30,000 have already been sold.
The smartphone-based application does not require knowledge of the individual characteristic curve or any additional technical data of the pump set to be measured, however, and can also be used with pumps from other manufacturers. Users can utilise the app to determine the load at which each centrifugal pump driven by a fixed-speed asynchronous motor is being operated. The following data must be entered for this purpose: the motor rating, the rated motor speed, the head and the flow rate of the pump. This information can be read from the name plate affixed to every pump.
When the measurement routine starts, the microphone built into the smartphone or tablet is used for approximately 20 seconds to record the noise emitted by the fan of the electric motor. This noise spectrum is then filtered by the application to ascertain the exact speed of the pump set and determine the torque. By correlating the performance data entered by the user with the hydraulic systems database developed by the manufacturer, the app can conclude whether the pump is operating at part load and lets the user know if any energy could be saved by optimising the hydraulic system or the drive.
The KSB Sonolyzer app is available for the iOS and Android operating systems and can even be used in potentially explosive atmospheres if the smartphone or tablet PC has appropriate protection. The average life cycle of plants used in the chemical industry exceeds 30 years, which is why the pumps installed have only seldomly been connected directly with the Internet of Things. In many cases, users are not even aware of a pump s current load condition.
This, in turn, points to a considerable amount of energy-saving potential that can be tapped by optimising existing pump installations. All analysis data that is uploaded to a secure, cloud-based environment does not reference an individual. The data serves statistical purposes and is only used to further develop and advance the analysis algorithms in the cloud application which is accessed by the app.
Should a user be in need of support or assistance from the pump manufacturer, he or she must actively contact the company.