Mixing Pump Sets for Professional Container Operation
Emulsions, dispersions and suspensions often tend to settle out. In this case mixing pump tubes are the ideal solution. Before these fluids are pumped from drums or containers the mixing pump tubes ensure that the liquids are properly mixed and homogenised.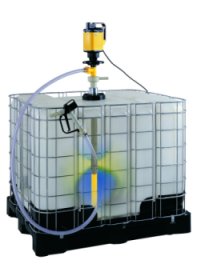 Mixing Pumps Set
In order to provide highest level of operational safety and to make it possible to "mix and pump" in one go, the mixing pump tubes which originally were constructed for drum operation have been optimized for the professional container emptying.
A specially designed impeller geometry allows a delivery quantity of 160 l/min. This ensures pumping and mixing of a high capacity within a short time.
A construction comprising an immersion tube and a locking mechanism that has been tried and tested in practice provides for opening and closing of the mixing apertures. If you want to mix and to pump the mixing apertures can be closed by means of a hand lever. The shut-off device on the discharge side has to be opened and the pumping operation starts.
Pump tubes for mixing and pumping are available in polypropylene and stainless steel (1.4571). The pump tubes are sealless and have no grease fillings.
Explosion proof motors and mixing pump tubes with Atex certification are available for pumping easily inflammable liquids of danger classes A I, A II and B.
Materials in physiologically safe version are available for use in the food-, cosmetics- and pharmaceutical industry.
A comprehensive accessories program guarantees solutions ideally suited to any area and any application of professional drum and container operation. All products comply with the directives according to Atex 100a or have a manufacturer's certificate for physiologically safety of all used materials.