Miniature Wastewater Lifting Unit
KSB Aktiengesellschaft will introduce to the market a new generation of its waste water lifting units. Its modern design, i.e. a triangle-shaped mini tank, and the low height make Ama-Drainer-Box Mini not only a visual highlight but also a space-saving and stable solution.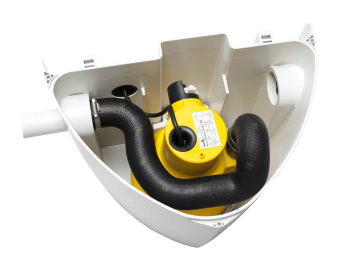 The new Ama-Drainer-Box Mini is the smallest product in KSB's range of waste water lifting units. (KSB Aktiengesellschaft, Frankenthal)
The tank is equipped with a wall mount on the back so the unit can be directly fitted to the wall, for example, under the washbasin. This facilities cleaning underneath the collecting tank and also adds to the ambiance of the bathroom, both visually and hygienically.
A durable, moisture-resistant activated carbon filter with overflow protection helps ventilating the collecting tank and ensures hygiene. Thusly, no unpleasant odours are released into the air. As a standard, users can choose between two switching levels via the float switch for standard or shower connection. A set for connecting the unit to the shower is included in the standard scope of supply so no further special accessories are required.
The lifting unit is equipped with an Ama-Drainer N 301 SE submersible motor pump which is produced in large numbers and comprises easy-to-replace and readily available spare parts. An integrated swing check valve prevents drainage of the discharge line after the lifting unit has stopped. The powerful and maintenance-free submersible motor pump further promotes reliable and smooth operation.
Thanks to its low weight, the ready-to-connect waste water lifting unit can be handled easily, enabling technically skilled users to install the unit without expert help. The connections accommodating for DN 32, DN 40 and DN 50 nominal diameters, and self-sealing rubber sockets offer a great choice of options for connecting the pipes. Users can choose for the discharge pipe to lead out of the tank either on the left or right side. The tank itself is made of thermally and dimensionally stable polypropylene.
These waste water lifting units are designed to automatically drain areas of buildings located below the sewer backwash level. This includes the disposal of domestic waste water from washing machines, washbasins, sinks, showers or bathtubs. If more aggressive fluids need to be handled, KSB also offers a material variant allowing transporting waste water containing salt or chlorine.