Micropumping Rendered Simple
The XXS2000 is a piezo-actuated micro diaphragm pump which reliably delivers small amounts of liquids or gases. Customers who would like to test the pump for their application are now offered an Evaluation Kit.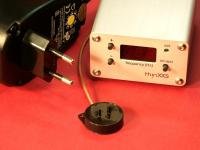 xxs2000
Besides the XXS2000 it contains an electronic pump control with integrated frequency generator and allows a quick and easy set-up of the pump.
The XXS2000 is made of plastic and pumps liquids up to a few milliliters per minute. Barely larger than a coin of one inch in diameter, the pump weighs just three grams and is self-priming. These features and its low power consumption make the pump suitable for a wide scope of application fields ranging from diagnostics, drug discovery, or environmental monitoring to household appliances and miniaturized fuel cells. Due to its modular set-up, the pump may be adjusted to changing specification requirements. The wetted parts are micromolded from COC (cyclo-olefin co-polymer), a plastic material with good chemical resistance, and assembled by laser welding.
About thinXXS GmbH
thinXXS produces microstructured components and systems in plastics. The company with its workforce of 30 people is located at two sites in the southwest of Germany, namely in Zweibrücken (production) and Mainz (development). thinXXS offers microfluidic products such as micro diaphragm pumps, their customization and integration into OEM products, as well as comprehensive product development and production services. The technological expertise comprises the whole production chain, from engineering and mold and tool fabrication via micromolding and finishing to assembly and production.