Micropump Releases a New Range of OEM Brushless DC Drive Solutions
Micropump is pleased to announce the release of its range of OEM brushless DC drive solutions.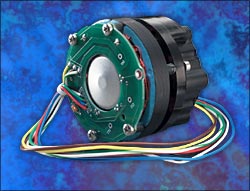 (Source: Micropump)
The design is based on Micropumps's patented Integral Series drive that combines a pump, brushless DC drive technology and the controller into one single unit.
The drive is an integral part of the pump and the pumping parts are moved without physical contact by a rotating electric field.
To meet the demand for lower cost and reduced size, Micropump has developed an OEM version of the Integral Series, that just uses a drive stator connected directly to the pump. Included with the stator assembly are the hall sensors that detect and control the speed of the pump. The drive electronics have been removed from the assembly and can be supplied on a separate circuit board, or designed in with existing circuit boards. The second option normally gives the best scope for rationalising the design of the motor control circuits and reducing costs.