Michael Smith Engineers Presents PFA Lined Gear Pumps for Aggressive or High Purity Liquids
These PFA lined magnet drive gear pumps can be used for accurate and reliable pumping of challenging liquids such as Hydrochloric Acid, Ferric Chloride, Sulphuric Acid, Hydrofluoric Acid, Sodium Hypochlorite, Nitric Acid, Sodium Hydroxide and Chromic Acid.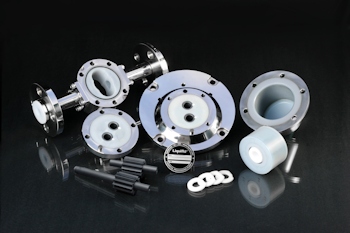 MSE Liquiflo PFA pump components (Image: Michael Smith Engineers)
Available through Michael Smith Engineers these pumps feature non-metallic wetted parts and offer the important characteristics of zero leakage and therefore safer pumping. They are available in seven sizes in both DIN and ANSI flanged connections and provide flows up to 47 lit/min at differential pressures to 7 bar and they can operate at temperatures to 90ºC.
Among the advantages of PFA lined stainless steel housings for these types of pump is that they do not suffer from wicking problems associated with fibre reinforced housings while the effects of heat entrapment and corresponding thermal expansion issues are minimised, as are the effects of fluid absorption. The stainless steel housings also increase the strength and durability required for process pump applications.
In addition to their corrosive resistance Liquiflo PFA lined pumps provide smooth, pulseless flows so they are easy to monitor and control, also their accurate output (within +/- 2%), means wastage is eliminated. They are also designed for easy servicing so downtime for routine maintenance is minimal.
Examples of applications where Liquiflo Polygard PFA lined pumps have been successful include, pumping hot hydrochloric acid into a chemical reactor at a speciality chemical manufacturer, injecting ferric chloride into a waste water treatment process and circulating a hot mixture of solvents and hydrochloric acid at a speciality chemical manufacturer.