Michael Smith Engineers Present Close-Coupled Thermoplastic Pumps
Where chemical handling or any similar fluid handling applications involve aggressive or corrosive fluids, thermoplastic pumps, as opposed to metallic options, are the ideal choice.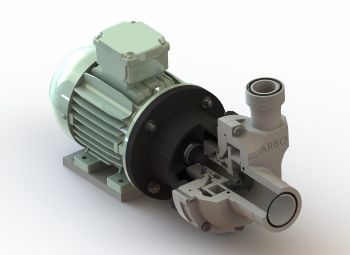 Arbo SealPro (Image: Michael Smith Engineers)
A good example of this is the range of Aarbo thermoplastic mechanically sealed centrifugal pumps made from either polypropylene, polyethylene, PVDF and PTFE available in the UK from Michael Smith Engineers.
Arbo pumps are machined from solid block and a manufacturing process that involves no injection moulding or welding which eliminates the potential for stress-cracking and so ensures robust, reliable, corrosion resistant pumping. They are available in three configurations including the SealPro closed-coupled design which handles flows up to 50 m³/hr, heads to 45 metres and maximum suction pressures up to 1.5 Bar with standard seal.
They are ideal for safe and efficient transfer and circulation duty of corrosives, including liquids containing solids and also viscous liquids up to 200 cP.
The pumps incorporate a single internally flushed rotating seal made from PTFE-graphite or Silicon Carbide which is mounted on the impeller so there are no wetted metallic seal components. Also, as none of the seal components touch either the sleeved pump shaft or the pump housing, this means the only wearing parts are the seal faces. An innovative internal circulation system ensures that the seal rings are always within the liquid zone and continuously flushed with the medium being pumped. This provides sufficient cooling and cleaning of the liquid surface at all times and optimises pumping efficiency.
Typical applications for Arbo thermoplastic mechanically sealed centrifugal pumps include pumping acids in anodising plants, circulating aggressive chemicals in pickling lines, tanker unloading of ferric salts in the water industry, pumping chemicals and untreated effluent in electronics manufacturing
Other situations where these pumps will be appreciated include; circulating demineralised water in food industry applications, handling coolant circulation in power plants, sea water circulation in aquaria and any application where metallic pumps will either suffer from corrosion or can cause contamination.