Michael Smith Engineers Introduces High Capacity Twin Screw Pumps
When high capacity fluids transfer applications require a self-priming pump which can provide smooth, pulse less flows up to 1700 m3 / hour and at pressures up to 55 Bar; 3P Pera Prinz Twin Screw Pumps are the ideal solution. Recently introduced in the UK by Michael Smith Engineers, these high capacity pumps are available with either one, or two pairs of screws and in a choice of wetted materials.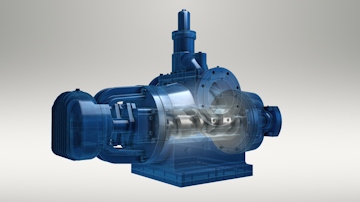 Twin Screw Pump (Image: Michael Smith Engineers)
These positive displacement pumps, feature one or two pairs of screws (depending on the model), which are driven by external gearing so the screws never come into contact with each other. This ensures smooth, accurate flows and suitability for pumping shear sensitive fluids. This twin screw 'non-contact' design also means high suction lift capability (typically 7 to 8.5 metres), very low NPSH values and less component wear and therefore a longer service life.
3P Prinz Twin Screw pumps are very well suited to pumping fluids with low, medium and very high viscosities up to 35000 cSt and at a wide range of pressures which makes them an ideal alternative to centrifugal pumps. Components are machined with very accurate tolerances and with very high quality surface finishing which results in reduced clearances and so minimises the potential for leakages and slip.
They are capable of operating at high angular speeds thanks to the screws low inertia and this facilitates a wide range of flow rates if the pumps are driven by a variable speed drive or inverter. They are designed to provide constant flow, regardless of pressure changes, particularly when viscous liquids are being pumped. Alternatively, they can be used on dosing and metering applications and will be particularly effective where pressure and fluid viscosity are constant during operation.
For toxic or dangerous fluid applications the pumps can be supplied hermetically sealed, complete with magnetic drive which eliminates the potential for any leakage to the environment.
3 P Prinz twin screw pumps can be offered to an API 676 specification for the petrochemical, oil and gas industries. They are also ideal for pumping applications in the chemical, pharmaceutical and food and beverage industries for transferring a wide range of challenging liquids such as; bitumen, tar, lubricating oils, crude oil, grease, paraffin, wax and molasses.