Michael Sick is Auma's New Head of Sales Germany
Changing of the guard at the head of the German Auma sales organisation: Heinz Lauinger, who has worked as Head of Sales since 1995, retired in June 2018. Taking over his responsibilities is Michael Sick, who has been a Sales Engineer with Auma since 2008.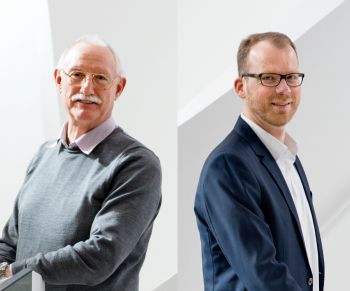 Michael Sick (right) succeeds Heinz Lauinger as AUMA Head of Sales Germany (Image: Auma)
During the 23 years Heinz Lauinger was head of sales, Auma changed from a mechanical-oriented company to a true mechatronic engineering specialist – and he is living proof of how well Auma Sales Germany implemented this change. Previously, he worked for a DCS manufacturer and thus had the ideal background to guide the Auma sales engineers in adjusting to the new challenges.
"For almost a quarter of a century Heinz Lauinger shaped the Auma sales organisation in Germany and contributed considerably to Auma's growth and market success," says Ferdinand Dirnhofer, Chief Sales Officer at Auma. "For our customers he represents continuity and expertise. I would like to thank him for his dedication over all these years and I wish him all the best for the future."
Michael Sick took over from Heinz Lauinger on 1 April 2018. For the last ten years he has been responsible for the sales territory of Baden-Wuerttemberg in south-western Germany. Michael, 41, is very experienced and perfectly suited to his new challenges – and not just thanks to his previous activities at Auma. He successfully passed his apprenticeship in power electronics, followed by graduate studies in electrical engineering. In his previous employment he traveled the world as a commissioning and diagnostic engineer for power plants.
"Michael is the perfect candidate for this job, not only thanks to his undoubted professional qualification and experience, but also thanks to his personal charisma and his strong commitment to our customers over the last 10 years," says Ferdinand Dirnhofer. "I am convinced that in his new role he will lead the German sales organisation to further success."