Metering Systems Dulcodos Universal by ProMinent
Essential components such as pipes, relief valves and electrical parts are preconfigured. The pipework, which is compatible with the feed chemical, and parts that come into contact with chemicals are made from PP/FKM or PVC/EPDM.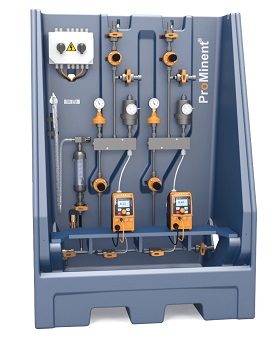 The modular metering systems Dulcodos universal are suitable for the precise metering of chemicals and additives (Image: ProMinent)
The metering system can be configured for one or two points of injection depending on the customer s requirements. This can be achieved with a new kind of valve block or with one or two pumps tailored to the application.
But of course the most important component in any metering system is the metering pump, so depending on the task in hand a solenoid driven metering pump Beta 4 or 5, delta or gamma/ X is integrated. The various pumps offer a flow rate of 2.3 ml/h–75 l/h at a back pressure of 10–2 bar.
Every system is equipped with two relief valves, a collecting pan with leakage sensor and a calibration tank for controlled metering to ensure high operational safety. The assembly frames are available in six standard colours. The metering systems are 1,700 mm high, 1,200 mm wide and 635 mm deep.