Mehrer Compression Introduces New High-Pressure Compressor
Mehrer Compression is presenting its latest product innovation – the new high-pressure compressor TRx 400. With this air-cooled piston compressor the company based in Germany offers an ideal solution for applications that require high final pressures of up to 200 bar combined with high suction pressures of up to 35 bar.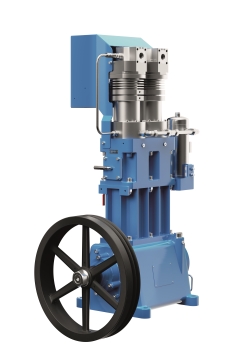 Mehrer Compression introduces its new high-pressure compressor TRx 400. (Image: Mehrer Compression)
The TRx 400 therefore is perfectly suited for the compression of H2, N2 or O2, for the filling of gas cylinders as well as for the storage of synthesis gases.
Like all solutions from Mehrer the TRx 400 operates absolutely oil-free. Due to the modular design of the cylinder block, the compressor can be adapted according to individual compression requirements.
The high-pressure compressor can be supplied as one- or two-stage version and allows the compression of any process gases and gas mixtures, whether wet or dry. Typical applications for example are the compression of hydrogen after electrolysis, the compression of nitrogen or oxygen for gas generators as well as the recovery of inert gases. Furthermore the TRx 400 allows the compression of toxic and flammable gases.
The TRx 400 can be deliverd as a compressor block, compressor unit or compressor plant. Because of its extremely robust construction and crosshead design it ensures a very high plant and process reliability.
Mehrer Compression will present the new Compressor at this year s Hannover Messe, taking place from 1 to 5 April 2019 in Hanover, Germany.