MCE – Mostra Convegno Expocomfort 2018 Hailed as a Major Success by Visitors and Exhibitors
More than 162,000 attendees from all over the world. Visitors from Italy were up 4 percent while overseas visitors were up 5.6 percent.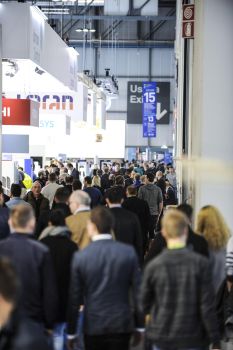 Mostra Convegno Expocomfort
Positive trends with rising numbers for the 41st edition of MCE – Mostra Convegno Expocomfort , the world-leading exhibition dedicated to residential and industrial installations, HVAC&R, and renewable sources held for the first time alongside BIE – Biomass Innovation Expo from 13 to 16 March 2018 at Fiera Milano. The prestigious stage involved more than 2,400 industry leaders, of whom 51 percent travelled from 54 countries with a total attendance of more than 162,000 professional visitors from all over the world.
In particular, this year's edition attracted 120,814 attendees coming from the north and south of Italy, (with a four percentage points increase compared to 2016) confirming the economic recovery in the domestic market driven mainly by investments in energy efficiency for comfortable living environments. According to ANIMA Confindustria Meccanica Report data, investments should continue to grow in 2018 up to 11 billion euros achieving a 2.8 percent increase compared with 2017. Of course, MCE – Mostra Convegno Expocomfort confirmed its figures and its growth in the international arena too. A total of 41,351 trade visitors attended the show, (a 5.6 percent rise on 2016) coming especially from India, Country Guest of this 41st edition, Asia (China, Turkey, South Korea), and the Middle East (Jordan, Saudi Arabia, Syria and Palestine). Besides, the Americas registered higher figures (not only US and Canada but also Argentina and Uruguay. The European presence was also significant, notably Poland, Romania, Russia and Croatia.
As is customary, a large and diverse audience of industry professionals flocked to MCE 2018, such as Installers and Maintenance Technicians (33 percent), Buyers (38.3 percent). The show also recorded a 1.2 percent increase in the number of electrical and Home & Building automation installers who had the opportunity to discover hundreds of new products and solutions being launched at the show.
"We are extremely pleased with the results of this year's edition - stated Massimiliano Pierini, Managing Director of Reed Exhibitions Italia – both naturally due to a further increase in exhibitor and visitor numbers and a palpable sense of energy and enthusiasm that pervaded the four-day show. MCE 2018 has once again offered the latest products and innovations designed to combine maximum comfort in all seasons and to reduce energy wastage, now considered as an essential element of good design in the built environment and increasingly strategic in terms of new business opportunities".
The success of the 41st MCE depended on two driving forces: IoT and integration between products and solutions, technologies, systems and services, conventional and renewable sources of energy for the design of comfortable living environments that help optimise energy usage, improve air quality and be more eco-friendly. An overall showcase of the most innovative solutions that tell the changes the Internet of Things can bring to how the HVAC&R industry contribute to the intelligent management of energy not only in a building, but also in a district, and in a city. Such an evolution that is redesigning the professional qualifications of many operators playing a pivotal role in planning: companies, design studios, installation and maintenance providers seeking new training and networking opportunities.
Four full days of an exhibition presenting a content-rich agenda featuring 145 conferences, seminars and workshops of MCE and BIE. "The Fourth Report on the market of residential and industrial Installations in Italy and outlook for the period 2018-2021", drawn up by Cresme, was presented at the inaugural conference held on 13th March 2018, attended by Vincenzo Boccia, President of Confindustria Italia, and some of the most important associations and institutions. The busy programme of sessions devised in collaboration with the leading trade associations – coordinated by the Scientific Committee of Energy & Strategy Group, Polytechnic University of Milan, chaired by Professor Vittorio Chiesa, provided a unique opportunity for technical and educational upgrading aimed at a vast audience of professional profiles from HVAC, electric and plant systems supply chains. The conference programme for 2018 touched upon a range of themes: from critical aspects of FGas Regulation to industry 4.0 plan, together with domotics and electric mobility, from ventilation and air quality to photovoltaics, Energy Manager 2.0 and the Energy Efficiency National Fund, the digitalisation of the heating industry and much more besides.
Feedback from participants gave a resounding thumbs up to That's Smart, an exhibition and workshop space showcasing 70 companies, located in Hall 2/4, running alongside MCE, which concretely expressed the correlation between HVAC&R and electric technologies, where to discover the design for comfortable living, efficient, integrated and affordable. Plus, all the eyes were on the space dedicated to sustainable building mobility offering EV charging solutions and zero-emission vehicles for the purpose of displaying cutting-edge integrated HVAC systems targeted to designers, installers and professionals from efficient management of energy in residential, commercial and industrial environments. Visitors also flocked to the vast array of workshops focused on the current hot topics within Home & Building Automation, Smart metering, Electricity generation from renewables, and Electric Mobility.
Two new initiatives of MCE 2018 also achieved surprising results. Factory4.now – a real production line for industry 4.0 – built by a team of 11 firms – a live show located in Hall 4 featuring the phases of the next generation manufacturing processes of a valve, including assembly and testing, starting from a brass bar. Every single machine was linked to the others through a centralised system, which provided a true real-time visualisation of plant and machinery: a concrete example of how technological innovation facilitates the manufacturing process. A resounding success with visitors was also the MEP-BIM Forum featuring Mechanical, Electrical, and Plumbing-BIM. A building information modelling for designing mechanical, electrical and plumbing engineering systems to achieve successful integration of plant systems in buildings. A workshop space with a dedicated desk located in Hall 2.
Once again, the new format of Percorso Efficienza & Innovazione has proved a big hit. A shortlist of 78 products and solutions presented by 54 companies and selected by the Polytechnic University of Milan University, ABC Department. Signage and graphics guided visitors through the trade show exhibit to discover the most groundbreaking energy-efficient solutions. Moreover, for the first time, Percorso Efficienza & Innovazione featured a "Practical Guide to improving comfort and energy savings", available for distribution during MCE IN CITTA', a new event between ludic and edutainment open to the general public, held on 10-18 March 2018 in Milan, Piazza Gae Aulenti. A collateral event aimed to bring the excellence in innovation technologies displayed at MCE closer to a more and sensitive end-user to highly topical issues affecting the daily sustainable and comfortable living.
Furthermore, the array of initiatives put in place by the leading trade associations in partnership with MCE were also very successful with attendees. ANIMA, Federation of Italian Associations of Mechanical and Engineering Industries, proposed the traditional ANIMA Lounge, situated right next door to Hall 14/18, with a busy programme of conferences and business meetings. ANGAISA, (Italian Dealer Association for Plumbing and Sanitary Equipment, HVAC, Flooring, Tiles and Bathroom Fixtures and Fittings) hosted Tecnopolis-CasANGAISA in Hall 2 that featured the most advanced solutions aimed to logistics and warehousing industry. Last but not least, a conference designed to explore the financial incentive mechanisms for improving energy efficiency organised by Assistal, and the excellent training environment provided by AICARR (Italian Association for Air-Conditioning, Heating and Refrigeration).
The first edition of BIE - Biomass Innovation Expo, the new trade show dedicated to biomass heating systems held in Hall 6 at Fiera Milano boasted fully functional fireplaces seen as such a critical factor in the success of MCE 2018. The unique showcase welcomed over 70 exhibitors, of whom 28 percent was coming from foreign countries such as Greece, Turkey, Poland, featuring the best examples of biomass systems and solutions available in today's market. Stoves, fireplaces, wood pellet boilers and cookers, thermo-fireplaces, thermo-stoves, accessories, burners, barbecues, chimney flues as well as machines and technologies for commercial, industrial and residential use. The number of visitors confirms the importance of the rich programme of 28 workshops designed with the support of the Scientific Committee made up of the leading trade associations including Amici della Terra, ANFUS, Assocosma, CECED Italia, Assocamini, Unicalor, FederForeste, ITABIA, Laboratorio Biomasse – Università Politecnica delle Marche, Innovhub – CC.I.A.A. Milano, ENEA that have chosen this first edition to tackle some of the most topical issues facing the whole value chain to engage with the professional audiences attending the exhibition.
"The 1st BIE – Biomass Innovation Expo declared Massimiliano Pierini, enabled us to provide improved visibility to a number of companies in the biomass energy industry that regularly exhibit at MCE, critical factor to meet the proposed target set by the NES 2017, leading to 28 percent renewable penetration by 2030. BIE has been conceived to integrate well with the prestigious showcase of MCE, while offering a comprehensive overview of the solid biomass sector, from the latest technologies to the most consolidated products". For 2020 we are redesigning the exhibition layout that will be more synergistic with MCE, and new modalities of participation that will significantly enhance the trade show."