MCE Announces Two New Events in the Run-up to MCE in 2016
Preparations are in full swing for MCE, the world's leading biennial exhibition dedicated to residential and industrial installations, air-conditioning and renewable energy. Two new international events are planned for 2015: MCE Asia in September and MCE Saudi in November.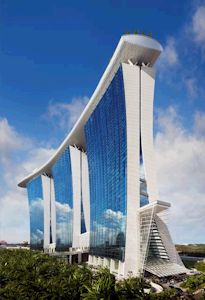 MCE Asia will be held in Marina Bay Sands from 2 to 4 September 2015
The 2014 edition of MCE - Mostra Convegno Expocomfort has closed its doors, registering more than 2,000 exhibitors, 43% from abroad and 157,897 visitors with a significant trend in visitor flow from abroad, which grew by 3% compared to the previous edition and an overall attendance of 36,311 professionals who made their way from 146 countries. 900 exhibitors have already secured their places for MCE 2016, with a 11% rise in foreign exhibitor numbers. This is a clear sign of the exhibition's growing international dimension that will once again act as a global platform to bring together even more visitors and exhibitors.
At the heart of MCE lies the industrial sector characterised by high levels of technological innovation, by becoming increasingly strategic across the international economic scenario aimed to improve energy efficiency and rational use of energy resources. Designing buildings today means not only optimizing energy performance by reducing energy consumption, but also using technologies with integrated functionality, control and management tools. A high integration between building envelope and installation-technology, and buildings and cities is required to create a new vision of building and living. The support of a robust industry, is another reason why MCE has been and continues to be an international benchmark event.
Internationalism is a key feature that MCE – Mostra Convegno Expocomfort will further develop in 2015 with the launch of MCE Asia, in Singapore, and MCE Saudi, in Riyadh (Saudi Arabia). An important challenge to improve the excellence spanning across specific industrial sectors of MCE such as HVAC, sanitary ware and renewable energy is in those countries that have great potential for developing.
The two new events in 2015, MCE Asia and MCE Saudi, have been greeted with much enthusiasm by domestic and international exhibiting companies.
In line with SECB new regulations (Saudi Exhibitions & Convention Bureau in charge of regulating non-competition among trade exhibitions acress the country) coming into force these days – Reed Exhibitions has chosen to postpone the MCE Saudi date originally planned for May. MCE Saudi will therefore take place in autumn, from 30 November to 2 December 2015 at the Riyadh International Convention & Exhibition Center - RICEC.
An important decision based on a further strategic analysis, and the constant attention to economic, legislative and cultural scenarios. The first edition of MCE Saudi will neither interfere with other trade shows, nor create confusion in the sector. On the contrary, its objective is to enhance the value and the uniqueness of the MCE brand recognized worldwide.
The first international event to be launched by MCE this year will be MCE Asia, taking place from 2 to 4 September 2015 at the Marina Bay Sands. It will be held in conjunction with Building Eco Xpo (BEX) Asia, the Southeast Asia leading business-to-business exhibition for cutting-edge technologies in green building design and architecture, organized by Reed Exhibitions Ltd. BEX Asia is a point of reference for all trade professionals of this geographical region: in 2014, it has registered the participation of over 400 exhibitors from 35 countries and 9,755 trade visitors, from 43 Southeast Asian countries namely: Malaysia, Taiwan, Philippines, Indonesia, Brunei, China, Japan, Korea, Cambodia, Vietnam, India, etc.
MCE Saudi, organized by Reed Sunaidi Exhibitions, a joint-venture of Reed Exhibitions Group with a long-term presence in the country, is a unique opportunity for all the companies exhibiting at MCE to showcase their best-in-class products to a market where the demand trend is expected to grow, particularly for the construction sector, one of the most driving forces in Saudi Arabia's economy, also focused on launching large-scale projects to build new "economic cities". Expectations will affect investments for over 214 billion Euros in four years (stable value in 2012), of which 63% in infrastructural work, 22% in residential buildings and 15% in non-residential buildings (source: Cresme).