Masterflex Peristaltic Pumps with MasterflexLive Now 21 CFR Part 11 and EU Annex 11 Compliant
The industry technology, MasterflexLive Cloud-enabled pumps, brings the Internet of Things (IoT) to pump applications, providing pump operators with the ability to remotely control and monitor pumps via the Internet — without the need to be onsite. This feature has now been enhanced with 21 CFR Part 11 and EU Annex 11 compliance, so that robust security, data control, and electronic records is possible with a low-cost subscription.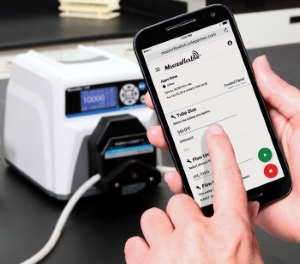 Users can now meet 21 CFR Part 11 and EU Annex 11 with Masterflex Cloud-enabled pumps featuring MasterflexLive. (Image: Cole-Parmer)
MasterflexLive is a secure, Cloud-based platform for controlling and monitoring Masterflex L/S and I/P Peristaltic Pumps via a PC, tablet or smartphone (iOS™ and Android™). Pump operators can monitor and adjust critical processes running 24/7 from anywhere with a data connection. This new smart technology for peristaltic pumps provides real-time control of all pump parameters, including speed, flow rate, dispense volume, and more. Push notifications provide alerts for operating conditions and error messages. "Hands-free" operation allows control of pumps operating inside cleanrooms, glove boxes, isolation chambers, or hard to reach locations. Set-up and activation of the pump to access the features takes only minutes with two easy steps: register a new account, then enter the pump's information.
By subscribing to gain access to EU Annex 11 users will have the ability to robustly manage data, maintain digital records and control access to data. Furthermore, they will have the added benefit of a programming function, and the ability to save and recall protocols prior to cascading operational parameters to all pumps via synchronisation. Data history – the core of EU Annex 11 compliancy – ensures that users can recall data at any time, and view any individual changes made to any device – providing pump operators with an auditable trail of events.
These pumps are ideal for process and research facilities, water and wastewater treatment (municipal) plants, industrial plants, food and beverage, chemical and mining, electrical, and anyone who wants to adopt the latest technology and tools to enable them to have flexibility, enhanced accuracy and maximised efficiency.