Marine Self-priming Pump That Does Not Require External Vacuum System
Johnson Pump, an SPX brand, is well known for the production of versatile, reliable pumping solutions for use in marine environments. Within its modular Combi range of centrifugal pumps, it offers an innovative self-priming pump known as the "CombiPrime.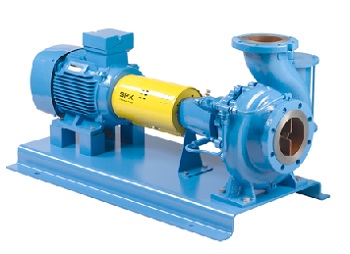 Marine Self-priming Pump That Does Not Require External Vacuum System (Image: SPX)
" Unlike many other self-priming pumps, this liquid ring pump creates its own, self-contained vacuum and doesn't need a separate vacuum pump, vacuum system or airline within its installation. It is ideal for use on ships and offshore vessels for the pumping of clean or slightly polluted liquids in services such as firefighting, bilge and ballast and other general duty pumping applications.
The CombiPrime's vacuum pump operates on a liquid ring principle. It is a well-proven design that has been shown to offer exceptional reliability in the toughest operational circumstances. Requiring just one power supply running to its motor, the pump offers a relatively low power solution that may be particularly advantageous in an emergency situation where alternative configurations that use a venturi require additional power to drive the compressor in order to self-prime.
Well-suited for use on supply vessels, the design of the CombiPrime offers the possibility of easier, more compact horizontal or vertical installation. Available in corrosive-resistant materials to resist seawater or other corrosive fluids, it is designed for easy maintenance by using back or top pull out of internals. Its rigid construction is specifically designed to withstand harsh conditions and this general purpose pump is ideal for a wide range of duties.
Through its Johnson Pump brand, SPX has a great deal of experience in serving both the offshore oil and gas and marine industries. The Combi range of pumps offer modular solutions with shared components across different models and a wide range of options to make them an exceptionally flexible solution. These pumps can, however, also be customised to specific application needs through SPX's expert engineering facilities. The CombiPrime is designed especially for use at sea and offers excellent reliability under harsh conditions.