Manufacturer Secures £10,000 Annual Energy Saving Following Atlas Copco Compressed Air Upgrade
Heritage Trade Frames, a fabricator of domestic and commercial windows, doors and conservatories in the North West of England, has realised annual energy savings of at least £10,000 and pushed up productivity after opting for a compressed air systems upgrade from Atlas Copco.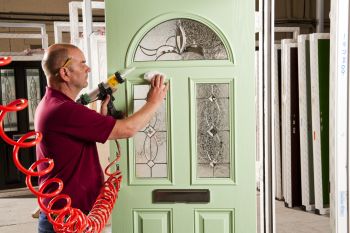 Atlas Copco Compressors
The Bolton-based company is committed to reducing its energy consumption and adopting the latest advanced production techniques. In keeping with this principle, the 10-year old compressed air system at the company's main production site was recently reviewed and judged to present future reliability issues. This was deemed crucial, as a constant supply of quality compressed air is essential to the efficient operation of the company's production equipment, such as drills and other air tools, as well as complex CNC machining tasks.
Atlas Copco was called upon to carry out an iiTrak data monitoring exercise to measure the plant's air requirements and assess both the energy usage and performance of the existing compressed air system. As a result of this exercise, a GA26 VSD+ 13 bar compressor and GA22+ fixed-speed 7.5 bar compressor were installed.
A similar data monitoring process was then carried out at the company's second production site. The decision was made to install a GA15 VSD+ machine with output variable from 7 to 42 l/s, together with a refrigerant dryer, filters, air receiver and oil/water separator. The installation also included a complete 40mm AIRnet modular ring main.
Heritage Trade Frames' managing director, Paul Culshaw said: "We were impressed by Atlas Copco's professional approach, which inspired confidence; reliable equipment that prevents stoppage of work activity for over 75 people; and the energy saving capability that matches output to demand. Current estimates indicate our annual savings to be in excess of £10,000."
Commenting on the contribution that the new installations have made to his company's output, Paul Culshaw said: "With the continuous, reliable supply of quality air that the Atlas Copco compressors provide, we have increased productivity. It is now possible to operate a semi-automatic cycle, which results in reduced fabrication times and higher product quality in our PVC-U fabrications."