Malaysia International Water Convention 2021 Virtual Edition: Navigating the Future of Water in the New Norm
The Malaysia International Water Convention (MIWC) 2021 is set to return from 20-24 September 2021 – in a new and immersive Virtual Format.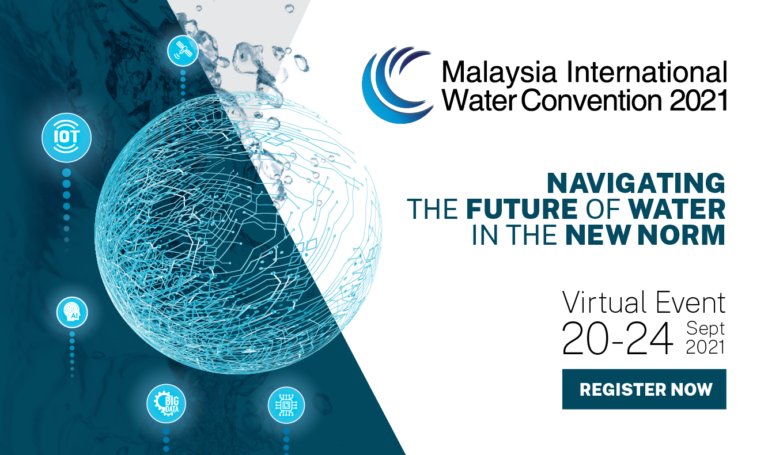 Image source: PROTEMP Exhibitions & Conferences Sdn Bhd
The event is organised by Malaysian Water Association (MWA), and supported by the Ministry of Environment And Water (KASA).
In 2019, MIWC welcomed 5000+ trade visitors from 17 countries over the 3-day event. And over 400 conference delegates consisting of water professionals and C level executives from Government, Water Utilities, Private Sector, Tech Companies, Institute of Higher Learning and Research Institutions.
Exchange ideas and paving the way forward for water in the virtual space
As the pandemic continues to make recurrent waves round the world, the water and wastewater industries are adapting to this "new normal" while strengthening water management for COVID-19 response, recovery and resilience. The water industry is going through a crucial phase of transformation amidst the pandemic, rising populations, water scarcity and impacts of climate change.
This year, with the theme 'Navigating the Future of Water in the New Norm,' MIWC will journey with you to explore the entire spectrum of water management.  Water requires greater respect and must be more vigilantly managed post COVID-19 based on new paradigms under the new normal. The conference will include keynote addresses as well as breakout sessions on the following sub-themes:
Conference Sub Themes:
01. Water Reforms under the New Norm.
02. Water 4.0
03. Alternative Financing
04. Green Technologies & Circular Economy
05. Wastewater Management
06. Water Innovations
07. Non-Revenue Water
08. Water Management Tools
09. Water Quality - Laboratory Techniques
10. Capacity Development
Gain valuable insights and learn country experiences during the 5-day Conference featuring over 100 of the world's foremost water specialists will present at the Virtual Conference, Workshops, Exhibition, Technical Tours, and Forums, sharing their knowledge and skills. The line-up includes path-breaking scientist and technologists, C-level executives from the biggest names in the industry, thinkers and visionaries.
Build Relationship and Establish New Markets
Join us as an exhibitor as we continue the important and meaningful conversations at MIWC 2021. Together, we can find solutions to old and new challenges, share experiences and best practices, and improve regional and international co-operation, and help elevate each other. We are targeting 500 conference participants from Asia and Southeast Asia Utilities and our exhibitors will also meet 6,000 visitors over the 5-day event.
The event promises an excellent return on investment with a range of progressive and stimulating programs easily accessible 24-hour by a global audience virtually.
2 Virtual Conference Track
2-day Virtual Workshop
5-day Virtual Exhibition
Forums and Webinars
Technical Tours
Water Innovation Poster Competition
This is your opportunity to network globally, discover the latest trends from the world's pre-eminent water experts and access first-class content from anywhere and anytime during the 5-day event.
Visit www.miwc.tech for more information