Makro/ 5 – The new, powerful dimension
With the new Makro/ 5 Series, ProMinent has closed the gap in its range of high performance motor-driven metering pumps. As a competent provider, ProMinent now seamlessly covers all metering ranges, i.e. from only a few millimetre to 100,000 l/h at operating pressures of up to 4,000 bar.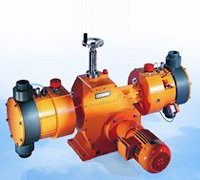 (Source: ProMinent)
The power unit of the Makro/ 5 HMH hydraulic diaphragm-type metering pump is generally designed as a double end pump and can be optionally equipped with one or two liquid ends. Retrofitting of the second liquid end is completely unproblematic.
The metering capacity as a single end pump is 6,000 l/h and 12,000 l/h in the double end version at 6 bar backpressure. This pump is available in the pressure stages 6, 10, 16 and 25 bar as well as with liquid ends made of PP, PVC, Teflon or stainless steel. A metering capacity of 1,000 l/h is achieved at 25 bar backpressure.
Up to six Makro/ 5 power units with one liquid end or three power units in double end version can be coupled to one station. The maximum metering capacity is 36,000 l/h at 6 bar and repeatability of ±1 %.
The modular design of the metering stations offers extensive scope for individual applications.
Reliability and safety of the Makro/ 5 HMH are operating characteristics that are achieved by modern technology such as patented multi-layer diaphragms, high diaphragm performance, integrated overload protection and so on.
Two further tried and tested motor-driven metering pumps round off the Makro/ 5 series. On the one hand, the mechanically displaced diaphragm-type metering pump Makro/ 5 HM with a maximum metering capacity per liquid end of 4,000 l/h at 4 bar backpressure and, on the other hand, the Makro/ 5 HK piston-type metering pump. It is used in the high pressure range of up to 320 bar and has a maximum metering capacity per liquid end of 6,000 l/h at 6 bar backpressure.