Major Order for All-Optiflow Progressing Cavity Pumps
Colfax Fluid Handling will deliver 36 units of Allweiler s new All-Optiflow series of pumps for the large Ambarli sewage plant near Istanbul.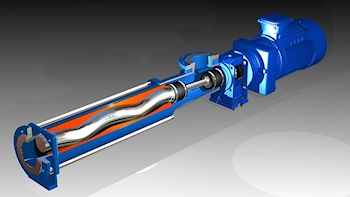 With a maximum capacity of 3800 l/min, "All-Optiflow" can handle all types of industrial processes. (Image: Allweiler)
These progressing cavity pumps move sludge and exhibit very high energy efficiency. Their capacity is up to twice as high as conventional pumps. All-Optiflow pumps are suitable for moving virtually any liquid, including those that contain fibers and solids.
PWT Wasser- und Abwassertechnik GmbH is the originating contractor for the new plant, which is one of the largest and most advanced sewage plants in Europe. It is designed to handle 2,000,000 population equivalents and a daily flow of 400,000 m³. The 36 Allweiler All-Optiflow pumps of various sizes move drained, digested, and concentrated sludge. Another 54 centrifugal pumps, progressing cavity pumps, and macerators are also installed in the plant. The pumps were delivered in the fall of 2011 and have been in trial operation since August 2012.
With their high power density, the pumps reduce energy consumption by up to 15% compared to conventional progressing cavity pumps. Stub shaft diameter is approximately 30% smaller, reducing friction by nearly 50%. Highly wear-resistant materials further reduce maintenance costs. The extraordinarily low energy and operating costs were critical for PWT s decision, [since they will also operate the plant for five years According to PWT engineer Doreen Steingrübner: "Energy efficiency was critical as we compared the technical characteristics of several vendors."
The All-Optiflow series employs innovative design details that reduce energy consumption as well as costs for maintenance and spare parts. Examples include redesigned pumping elements with higher power density, low-friction rotors and shaft seals, and stators with a special surface. Combined with the patented "shark-skin" rotors, this honeycomb structure results in low starting and operating forces for greater efficiency and constant performance curves during operation.