Major Contract for New Indian Power Station
At the end of August 2015, KSB Pumps Ltd. India won a substantial order for the supply of six boiler feed pumps to be installed in the new, ultra-modern fossil-fuelled power station located in Tanda in the Indian state of Uttar Pradesh.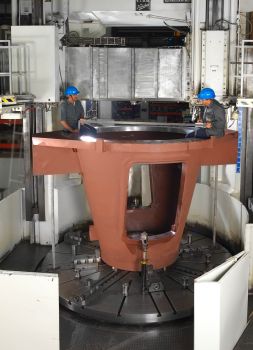 With its manufacturing and testing facilities, the KSB plant at Chinchwad in India is particularly well equipped for the manufacture of power station pumps. (© KSB Aktiengesellschaft, Frankenthal, Germany)
India's national power utility is currently building two new power plant units there, each with a capacity of 600 MW. The pumps are designed for a pressure of 500 bar. An electric motor and a turbine with power ratings of 11 MW and 17 MW respectively will serve to drive the pumps.
Besides the high-pressure boiler feed pumps, the scope of supply includes six booster pumps, baseplates, electric motors, hydraulic couplings, oil coolers, gearboxes as well as noise enclosures and related instrumentation.
KSB Pumps Ltd. India received the order because they are able to manufacture all pump sets at their Chinchwad plant which is equipped with state-of-the-art manufacturing and testing facilities and can conduct elaborate performance tests prior to delivery.
Delivery will begin in November 2016 and is expected to be completed by May 2017.