Magnetically Coupled Centrifugal Pump with Open Impeller
Fristam Pumpen showcases for the first time a series of magnetically coupled pumps which combines essential design elements of the proven centrifugal pumps with special safety attributes for industrial use.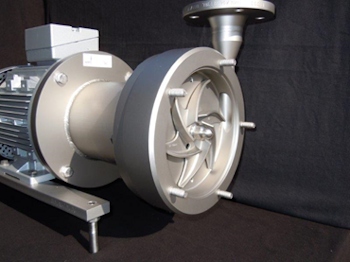 The FPM series with magnetic coupling and open impeller combines safety with cleanliness (Image: Fristam)
In contrast to the closed impellers frequently found in this sector, the new FPM series comes with an open impeller. The product space is sealed off hermetically from the environment by a separating can, and the impeller is connected to the drive unit contact-free via a magnetic coupling.
Industrial pumping tasks are frequently subject to extremely stringent safety requirements, since the liquids to be pumped are often toxic or aggressive. Such requirements are found, for example, in the production and processing of chemical products, and in the production of paints, and lacquers, cosmetics and perfumes. Such critical products must at all costs be prevented from leaking out of the pump into the environment. For safety reasons, companies frequently use magnetically coupled pumps in such cases instead of pumps with mechanical seals. Compared to pumps with double mechanical sealing, the FPM series offers the advantage of hermetical tightness against both the product and the surrounding atmosphere. Moreover, there is no need for a locking or supply system.
Intelligent combination of safety with cleanliness
Fristam has based its new FPM pump series on a solid stainless steel structure in monobloc design and an easy-to-clean open impeller combined with a magnetically coupled drive unit. The pump power is transmitted contact-free and slip-free from the drive shaft via the magnetic coupling, so that the pump speed always corresponds to the drive speed, which is a vital aspect in optimal pump control. Moreover, the magnetic coupling transmits exclusively the drive speed to the drive shaft without any undesirable radial forces thanks to the special bearings of the magnetic coupling's internal rotor. The maximum transmissible torque for FPM pumps is about 450 Nm. They are suitable for system pressures of up to 25 bar, discharge pressures of up to 13 bar and viscosities of about 500 mPas. Transfer of liquids with a maximum solid content of up to 5 % w/w is possible without any problems.
Extended application options with shearpump
In addition to pumping solutions with magnetically coupled centrifugal pumps, Fristam offers a combination of an FPM pump with its proprietary shearpump, which is already being used successfully for the production of biodiesel. Shearpumps are mixing aggregates which use a rotor-stator combination instead of an impeller to make high-quality multiphase products. The Fristam customer can use the combination of a centrifugal pump with a shearpump to mix additives into the diesel intermediate. This substantially improves the product quality and efficiency of the process. The by-products gained from this operation can be further processed separately. Of course, all FPM pumps comply with all relevant regulations and standards, such as DIN EN ISO 2858, 5199 and 15783, ATEX 94/9/EC, Technical Instructions on Air Quality Control (TA Luft) and the Water Resources Act (WHG).