MAGDOS LC – New Solenoid-Driven Diaphragm Dosing Pump
The new MAGDOS LC is an inexpensive solenoid-driven diaphragm dosing pump, developed by Lutz-Jesco. The pump is ideally suited for simple and continuous chemical feed applications in the water and wastewater treatment sector as well as the process industry.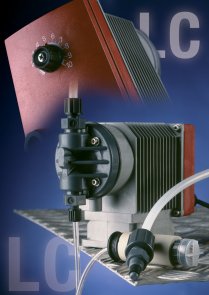 MAGDOS LC with accessory kit
The newly designed drive-solenoid is sealed in a water-proof, NEMA 4X housing. The MAGDOS LC operates at 120 strokes per minute and is controlled via ON and OFF of the main power. Tubing connections are integrated into the check valve housings.
The MAGDOS LC dosing pump is available in three sizes with capacities up to 5.7 liters per hour against a pressure of up to 10 bar. The manual stroke length control enables the user to adjust the pump's capacity continuously between 20 and 100% of its maximum capacity.
Furthermore, there is an optional set of accessories available for the MAGDOS LC. This accessory kit includes a suction line with foot valve, an injection nozzle and tubing.
Lutz-Jesco GmbH at the IFAT 2005
Hall A5, Booth 217 at the IFAT (trade show for water – wastewater – trash – recycling) in Munich from April 25th – 29th, 2005.