Mag-drive Pumps for Wort Transport
KSB presents the new mag-drive pumps of the Magnochem series for use in wort transport at the this year's "BRAU" exhibition.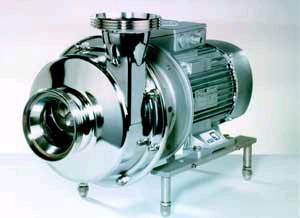 On display in Nuremberg was KSB's Vitachrom hygienic pump (photo: KSB)
Originally developed for process engineering cycles, these seal-less pumps have proven their suitability for this demanding application over several years of field testing.
Another highlight will be "PumpExpert", the new smart diagnostic system for centrifugal pumps. This innovative product provides straightforward precise information on the pump, system and process condition, both at local and control room level. Users can thus avoid expensive down-times and consequential costs.
Also on display in Nuremberg will be KSB's Vitachrom hygienic pump, tested and approved in accordance with the EHEDG (European Hygienic Equipment Design Group) regulations. It is available for flow rates of up to 350 m³/h and discharge heads of up to 110 m. The maximum drive rating ranges at 90 kW. Special mechanical seals for vacuum conditions and for exacting hygiene requirements make the pump suitable for a broad range of applications.
The zero-leakage canned motor pumps type Secochem are designed for pumping duties in cleaning applications (CIP and SIP). They combine the tried and tested standardized chemical pump hydraulic system with a canned motor. This configuration ensures simple handling and high operating reliability.
Actuators of the Actair series allow automatic operation of quarter-turn valves. In combination with the Amtronic control unit, Actair fulfils all requirements of modern processes to be met by valve actuators - up to communication via bus systems.
For the first time, the Frankenthal-based pump supplier will also be exhibiting in the "H20 News Center" (Hall 3-439 J). An information booth on well measurement is designed to show that the economic efficiency of groundwater extraction is heavily dependent on the overall efficiency of the submersible borehole pumps used and that poor efficiency will result in high energy costs.