Maag Pump Systems Moves its Headquarters
Maag Pump Systems Textron, the Polymer Systems (PS) segment of Textron Fluid and Power, and exceptionally known for gear pumps, screen changers, and filtration systems, moves its headquarters from Zürich to Oberglatt, Switzerland.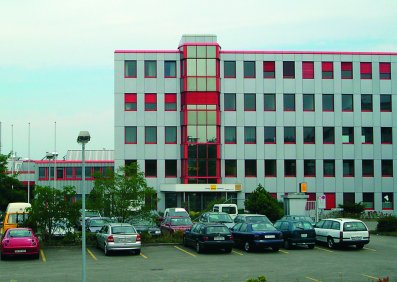 It has been almost a century since Max Maag founded the "Gear Wheel Company Max Maag" back in 1913 in Zürich, Switzerland. Since then, many changes have taken place including the split of Maag Gear Wheel and Maag Pump Systems back in 1991 to the most recent purchase of Maag Pump Systems by Textron Inc. in 1997. During these last few years, Maag Pump Systems Textron has been continuously transforming to provide the superior quality products and services that customers have come to expect from the Maag Pump Systems brand.
After decades at the Zürich location, the site of Maag Pump Systems Textron will change and the company will move into its new premises by the end of August 2004. The new building located in Oberglatt, Switzerland will accommodate both office and manufacturing facilities for the 160 employees. Maag Pump Systems Textron will consume over 5,200 square meters of office and manufacturing space.
Oberglatt is located about fifteen minutes outside of Zürich, and offers easy access to the Zurich-Kloten airport. The Swiss town makes an optimal site for Maag Pumps Systems Textron's international headquarters. The new contact information is listed below:
Maag Pump Systems Textron AG
Aspstrasse 12
CH-8154 Oberglatt
Telephone ++41 (0) 44 278 82 00
Fax ++41 (0) 44 278 82 01
"Not only will our new facility offer a central location, but it also provides us with state-of-the-art technology to service our worldwide customer base," stated Ueli Thürig, VP/GM of Textron Fluid and Power's Polymer Systems product line. "Even though our old location was deep in Maag history, we needed to upgrade our facility and this was the perfect time. The current location is being renovated for a mixture of small businesses and residential living. It only made sense that we move into a new location, which would host our international needs and manufacturing capabilities, and Oberglatt fit that need."
Maag Pump Systems Textron, part of Textron's Fluid and Power business unit, is the leading designer and manufacturer of gear pumps and filtration systems for the extrusion, polymer, industrial, and compounding process industries worldwide. More information is available at www.maag.com.
Textron Inc. is a $10 billion multi-industry company with more than 43,000 employees in nearly 40 countries. The company leverages its global network of aircraft, industrial and finance businesses to provide customers with innovative solutions and services. Textron is known around the world for its powerful brands such as Bell Helicopter, Cessna Aircraft, Kautex, Lycoming, E-Z-GO and Greenlee, among others. More information is available at www.textron.com.