Lutz Air Operated Double Diaphragm Pumps with Atex Certification
Even if it comes "thick and fast": In any situation at all, the oilfree valve technology of Lutz double diaphragm pumps guarantees unobstructed, infinitely variable operation. These pumps are capable of delivering even critical material to be conveyed in a gentle and safe manner.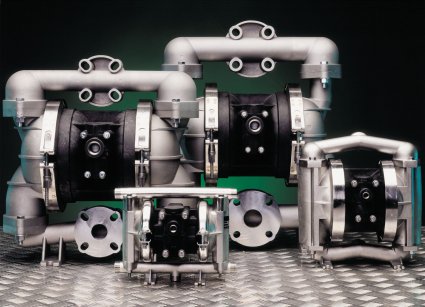 Double Diaphragm Pumps
They are equally well suited for aggressive, abrasive or easily inflammable fluids and for media with a high viscosity. Operation with air pressure means safety, there is no chance for electrical sparks. The pumps are now tested and certified according to Atex 100a.
Lutz double diaphragm pumps are designed for serving many industry sectors e.g. paint and lacquer, electroplating and surface treatment, chemical, ceramics, paper and pulp, metal and mining and waste recycling.
The Lutz double diaphragm range has size and materials of construction to suit your needs. Benefits for the customer are: High compatibility of parts, reduced stock of spare parts, service-friendly construction and thus reduced operating costs.
The pumps are designed for use on hard conditions also at low pressure and low stroke frequency without stalling. No leakage and contamination in the compressed air system due to a novel valve technique. Absolutely lube free valves ensure no contaminating of the environment or of the product itself by oil vapour. Corrosion free materials of construction are used.
Lutz double diaphragm pumps can be regulated continuously, they have no dynamic seals and are self-priming dry or wet.
The pump range comprises a ¼" size all the way to a 3" size for many industrial applications. The pumps are available in polypropylene, polyvinylidenefluoride (PVDF), nylon, aluminium and stainless steel.
Dual double manifold ( ¼", ½", 1")
The double diaphragm technique makes it possible to pump two completely different liquids simultaneously separated from each other or to mix two different liquids (e.g. paint, lacquer, adhesive etc.).
A comprehensive accessories program e.g. hoses, fittings, pulsation dampener etc. is available for a wide range of applications.