Lowara UK Sets High Standards With New Factory Accreditations
Lowara UK has been awarded BS EN ISO 14001:2004 and BS OHSAS 18001:2007 certification after a thorough audit of its head office in Devon, by risk and management system assessors, DNV.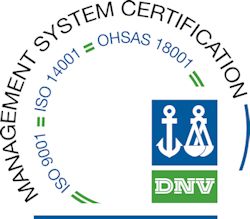 BS EN ISO 14001:2004 and BS OHSAS 18001:2007 certification (Image: Lowara UK)
The two new standards are in addition to the BS EN ISO 9001:2008 Quality Management standard achieved by Lowara UK in 2011.
ISO 14001, an internationally recognised standard intended to provide the framework for an effective environmental management system, takes into account the need to grow a profit whilst improving energy efficiency. Achieving the standard signifies a commitment to a reduced number of environmental breaches and lower running costs. It also recognises efforts to use more natural resources and waste management processes.
OHSAS 18001 (Occupational Health and Safety Management System) is also an internationally recognised standard which enables companies to control their health and safety risks and improve their overall operational capacity. It requires that factory staff have been made aware of potential workplace hazards and trained in health and safety, resulting in reduced numbers of accidents and improved incident management.
Duncan Lewis, General Manager of Lowara UK, comments: "Lowara UK takes both its environmental and its health and safety policies very seriously. We're delighted to have been awarded the ISO14001 and OHSAS18001 accreditations, which highlight our commitment to improving our employees' working environment and increasing the efficiency of our Devon facility. These achievements, alongside our existing ISO9001 Quality Management certificate, shows that Lowara UK is not only a leading force in the domestic and commercial pumping market, but that we are operating in an environmentally-friendly, efficient and safe manner which is recognised at an international level."