Lowara Presents its Updated SV Pump Range
Lowara presents its updated SV pump range, which has been completely re-designed and expanded to provide superior performances and advanced technological solutions.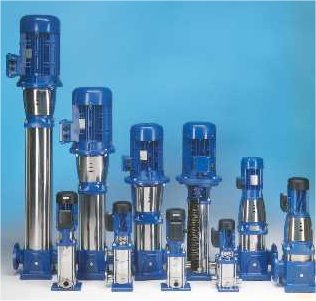 The Lowara SV series features vertical multistage electrical pumps made of stainless steel, ideally suited for a large number of applications including:
water treatment (reverse osmosis, ultrafiltration, demineralization, softening and distillation systems)
water supply (filtration and distribution from water systems, pressure boosting in networks or booster packagers)
light industry (cleaning and washing systems, firefighting systems, boilers, cooling liquids for machine tools, cooling and air conditioning, pumping of acid and alkaline solutions, oils and alcohols)
and irrigation (golf courses, flood irrigation).
All the materials used in the manufacture of this updated range of SV pumps are suitable for drinking water applications (WRAS certified).
The new Lowara SV pumps have been re-designed to meet the dual goal of maximizing the performance of the liquid end and motor and of reducing the maintenance requirements to a minimum in order to make the pumps suitable for a wide range of applications.
In particular, special attention was given to reducing axial thrusts of the liquid end, typical of pumps with a multistage configuration. This allows standard motors to be mounted without any need for intermediate devices which could have an adverse effect on the overall performance of the pumps.
Moreover, the improved efficiency of the new pumps enables energy consumption to be substantially reduced, which means that the pumps are less expensive to run. Their operation is also more silent: the noise levels have been reduced for greater customer satisfaction.
From small to large: the range is wider. With the introduction of four new models (SV 33, SV 46, SV 66 and SV 92) Lowara has also significantly expanded the application range of this series of pumps, which now features capacities of up to 120 m3/h and heads up to 330 m.