Lowara Heating Circulator Scoops Top Award
Xylem is celebrating after the Lowara Ecocirc circulator pump was awarded the Plus X Award for innovation, high quality and functionality.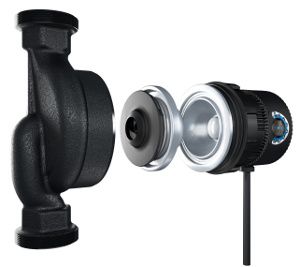 Heating circulator scoops Plus X Award (Image: Xylem)
Xylem fought off tough competition to scoop the coveted gong after an independent jury of 25 industries singled out the Lowara Ecocirc for its magnetite resistant anti-block technology.
The Lowara Ecocirc high-efficiency circulator pump features Xylem's 'anti-block technology' which completely separates the main flow of the transferred liquid from the permanent magnetic parts, meaning the pump will never be susceptible to blockages from magnetite or sludge.
The Ecocirc is specifically designed for heating systems in domestic applications. The pump can reduce electricity costs by up to 90% compared to traditional fixed three-speed pumps, delivering a payback period of 2-3 years. The high efficiency circulator boasts a market leading electronically commutated spherical motor which has only one moving component – the impeller/rotor unit. This means that the pump can perform to its maximum capabilities after any period of inactivity.
Director Sales and Marketing for Xylem AWS EMEA, Jeroen de Gruijter, said: "We're delighted to receive an award of this stature. The Plus X Award is a true endorsement of the business and demonstrates the passion and hard work of everyone at Xylem.
"We wanted to offer a simple solution which not only maintains our high standard of pump performance but also helps reduce the use of energy. But to win an award for our efforts is a real honor and testament to the dedication and professionalism of everyone at Xylem."
The Plus X Awards, now in its tenth year, is the world's largest innovation award ceremony for technology, sport and lifestyle products honoring manufacturers for their quality advantage.