Lowara: Effective Management of Underground Water Resources in Germany
Since December 2011, water management services company Erftverband has been responsible for the underground water resources in the German municipality of Korschenbroich and Kaarst (the Rhein-Kreis Neuss district).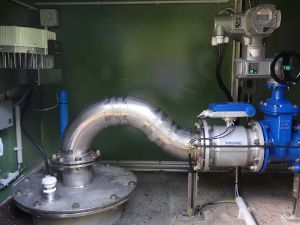 Xylem Water Systems
In some particularly flat areas of the municipality, small depths of groundwater occur naturally. When piezometric levels rise due to excess rain fall, many basements in these areas are damaged by water infiltration as they are often not correctly insulated against underground water. If the maximum foreseeable piezometric levels were to occur in the Korschenbroich area, approximately 3,100 homes would be affected.
In order to effectively deal with the potential problems in the area posed by elevated piezometric levels as a result of heavy rain fall, Erftverband approached pump manufacturer Xylem Water Systems Deutschland, based in the Bavarian municipality of Großostheim, to provide a solution.
Based on various simulations, Erftverband drew up a plan to reduce underground water peaks in periods of heavy rainfall. Up until then submersible pumps from other brands had been used in existing wells. However, as they did not feature a frequency adjustment control they were operationally uneconomic.
To resolve the situation and reduce water peaks, as well as minimising water infiltration in approximately 900 basements, Xylem recommended the installation of Lowara Z8 and Z10 submersible borehole pumps, as well as a Hydrovar speed control system. The pumps were installed in seven vertical filter wells on a floating jetty (on what was once an artificial lake) in the municipality.
The new 8" and 10" submersible pumps feature one stage and trimmed impellers as optional accessories. Each pump is also connected to a wall-mounted Hydrovar system which adjusts its motor speed according to effective operation and the corresponding delivery capacity.
By choosing this new installation, Erftverband has been able to benefit from the valuable consulting skills and consolidated experience of the specialist Xylem pump design consultants.
Technical systems
When the piezometric levels are exceeded in Erftverband's various monitoring stations, the conveyor systems are activated at predetermined power levels. The conveyed underground water is then redistributed into the immediate surroundings through a dedicated water outlet.
All of the Lowara pumps are connected to a central data processing and control system which allows Erftverband's specialist staff to access all relevant information and remotely control the underground water levelling plants.
All the information concerning the current operating status of the conveyor plants can be found on www.grundwasser-korschenbroich.de. The available information also includes data relative to wastewater, rainfall and delivery capacity.