Low Flow with High Head Pump Applications from Sero
Sero Side Channel Pumps are self-priming pumps that operate in low NPSH conditions & have the ability to handle up to 50% entrained gas.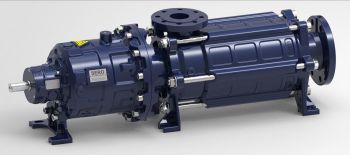 Sero PumpSystems GmbH
Sero pumps run at very low flow rates, while generating medium to high differential pressures.
Model Sema-S BC
Sero will introduce their new design, model Sema-S BC. This model is a derivative of the successful sealless side channel pump, incorporating a heavy walled "barrel" casing for maximum operating safety.
The "barrel" design completely encapsulates the liquid end of the pump and provides dual containment. This new feature is secured by o-rings which limits potential leak paths that are harmful to the environment.
In addition, the "BC" option does not affect any of the standard Sema dimensions or positions. Upgrades and retrofits to existing Sema units can be considered.