Lewa´s New Micro-Metering Pump with Mechatronic Control
When testing new small-scale process technologies in high-pressure laboratories, maximum precision is required so that later upscaling will be as accurate as possible. To be able to work safely and without spillages at pressures up to 500 bar, Lewa GmbH has developed a hermetically sealed high-pressure micro-metering pump.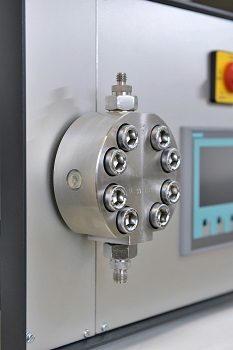 Lewa´s Intellilab (Image: Lewa GmbH)
The Intellilab is a logical evolution of the K3 and K5 micro-metering pumps, which have been used in high-pressure laboratories for decades. By using the drive and control technology Lewa Intellidrive the drive-side angular speed can be regulated during operation in a highly dynamic manner. The special operation of the servomotor allows the pump in the Intellilab table housing to be capable of generating low-pulsation volume flows. At a discharge pressure of up to 500 bar, flow rates between 10 and 500 ml/h at an accuracy of ±1 percent are possible. In automatic mode, the pump can be controlled from a DCS via an analog signal (0/4-20 mA). In combination with various control structures, the fluid kinematics can also be adapted to the requirements of the process, and the profile of the metered flow can be modeled in nearly any way. Metering flow profiles can be programmed and processed to schedule. Input and visualization are carried out via a color touchpad with intuitive usability.
The Intellilab is primarily used for accurate and reproducible metering in high-pressure synthesis and hydration processes as well as in mini-plant applications, because the fluid is hermetically blocked against atmosphere and the hydraulic system of the pump. Spillages to the outside and the danger of fluid coming into contact with air are eliminated by the hydraulically coupled metal diaphragm, which is particularly well-suited for very small metering flows. The pressure stiff hydraulic actuation of the diaphragm also keeps the impact of the pressure on the metered flow to a minimum.