Lewa Starts Testing Room for Process Pumps
Lewa has commissioned a new test room for process pumps at Leonberg site. The new test facility allows the operation of up to four pumps in parallel in VFD operation. All pump data is continuously monitored.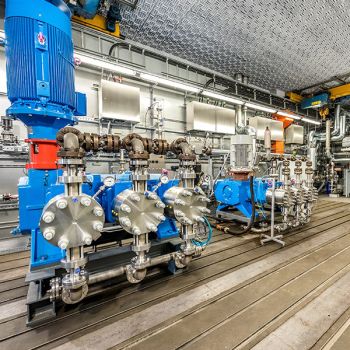 Lewa GmbH
If selected parameters exceed given limits the pump or even the entire system might be shut down in order to protect pump and system against severe damages. This system allows safe and continuous but unmanned operation of pumps with in total 800 kW hydraulic power in maximum.
The last board meeting was held on December 7, 2016 in Leonberg. The members of the board used this opportunity to see the new process pump test facility, which is in its final commissioning phase. The ideas and targets behind the new installation were explained and demonstrated. LEWA's former CEO and now Executive Vice President and BOD member Naota Shikano started a G3G triplex pump on the control panel to see the new features at first hand. The board members left the new facility deeply impressed.
On Friday, December 9, the second part of the opening ceremony took place. All Lewa Leonberg employees were invited to see the results of the great efforts that have been made in the last months. Many colleagues followed the invitation in an extended morning break.
The G3G was in operation to show the function of the new "Püda". "Püda" is an abbreviation for "Pumpenüberwachung- und Datenaufzeichnungsgerät" – an electronic system to monitor, log, check and if required shut down the pumps during endurance tests. The older colleagues remembered the old "Püda" with paper printer, old-style electromechanical relays and proprietary circuit boards – a system which was great at end of the 1980's, but interference-prone and totally overaged in the age of smartphones, internet of things and big data. The same story is valid for the electrical power supply. The old system with one frequency inverter port and three main operation ports was replaced by a power supply system with newest drive technology. It is very efficient, liquid-cooled and therefore very quiet-running. It allows the operation of several motor types such as squirrel cage, synchronous, linear or torque motors up to approx. 500 kW per port. To close the story, regarding big data it can be stated that the new drive system logs additional machine data as motor torque, speed and position. The extensive data recording might give a complete new perspective regarding condition monitoring and predictive maintenance of our pumps.
Everybody is convinced that now R&D is up-to-date with its new test facilities and the foundation stone is laid for innovative new products. Finally, R&D expresses a warm thank-you to the supervisory board, management board, the project manager and all involved people bringing this project to a successful end.