LEWA Founds Joint Venture in Singapore
LEWA PTE LTD – the Singapore subsidiary of the international company LEWA GmbH – and managers who will lead the new joint venture have signed an agreement based on long-term and established cooperation.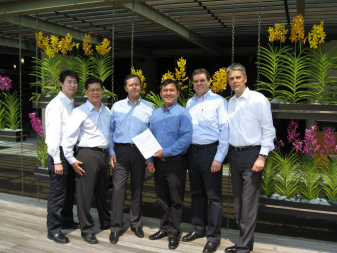 from left to right: Lim Chee Hua, Teo Kim Guan, Paul Beddard, Daniel Wong and Norbert Friege (LEWA CFO) and Stefan Glasmeyer (GM Sales and Marketing LEWA GmbH)
Operating under the name Pump Alliance PTE LTD, the goal of the Singapore-based company is to serve the local process industry in the Asia-Pacific region with economical and technological leadership in pumps and system solutions: Creating Fluid Solutions is the new slogan of the LEWA Group.
In addition to LEWA diaphragm pumps and systems, the alliance will also market API-674-conformant positive displacement pumps. API-610-conformant centrifugal pumps from the Canadian manufacturer CPC Pumps International Inc. complete the portfolio.
The new joint venture brings together more than just renowned products: Pump Alliance guarantees added value with further services precisely tailored to customer requirements, and it is available right from the start to assist in the integration of process engineering in systems. Layout computations, fluid flow analyses, local start-up support, fault diagnostics and customer training programs are just a few of the many pre-sales and after-sales services being offered.
In developing individual solution concepts for the process industry, the Pump Alliance team can look back upon over 40 years of experience, especially in the oil and gas industry.
Joint venture MD will be Paul Beddard.
Beddard: "Pump Alliance is the gathering of products with an exceptional reputation and our extensive experience in the respective markets. We owe it to the Asia-Pacific region to share this knowledge. Together with the sales network of the Pump Alliance sales team and the LEWA Singapore team's local capability for engineering package and pump solutions, the team would have a very balanced and complete capability to further serve all our customers in this region."