Leak-Free, Mag-Drive Ultra-Chem Pump Range Extended
The Finish Thompson UltraChem Series of ETFE lined centrifugal pumps has recently been extended with two new models which increase the maximum flow rates up to 160 m3 /hr and maximum differential heads to 67 metres. Engineered for extreme reliability UltraChem magnetic drive, sealless pumps are ideal for pumping hazardous, hard-to-handle chemicals in chemical processing, water treatment and other similar challenging applications.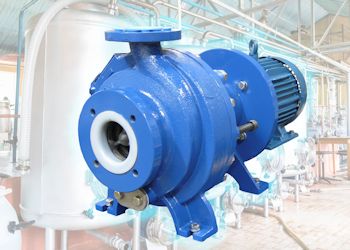 Michael Smith Engineers Ltd
Available from Micahel Smith Engineers, these leak-free, magnetically driven pumps combine a tough ductile iron casing with a Tefzel (ETFE) lining to ensure outstanding corrosion resistance. The benefits of using sealless, mag-drive pumps in extreme pumping applications are well documented and these new UltraChem models are no exception. They feature powerful neodymium magnets which drive the impeller through a carbon-filled PTFE lined barrier for dependable, leak-free operation with no environmental emissions, no double mechanical seal costs and no seal-support systems.
In addition, a range of features optimise the reliability, efficiency and performance of these pumps to ensure minimal wear on components, lower running costs and extended periods between routine servicing. For example, a Dri-Coat silicon carbide bearing / shaft option prevents catastrophic failure in the event of short-term dry-running. Also, a two-piece dynamically balanced outer drive with multiple pole options matches drive to motor power for greater efficiency. This outer drive incorporates Finish Thompson's "Easy-set" mounting system so that the drive magnet can be fitted to the motor shaft without having to measure the magnet set-height and ensures a perfectly set magnet thereby removing a potential cause of misalignment and so improving reliability.
Other features include a Kevlar reinforced barrier which reduces the air gap between driven and driving magnet and so maximises magnetic power to transmission. Using Kevlar for the barrier reinforcement enables maximum working pressure to be increased to 300 psi (20.7 bar).
FTI UltraChem pumps are an ideal choice for extreme pumping applications which typically occur in chemical manufacturing, blending and distribution, water treatment, plating and surface treatment applications, paper mills, fume scrubbers and other similar challenging situations which demand robust and reliable leak-free pumping.