KSB Wins Manufacturer of the Year Award
KSB Limited has been presented with the prestigious 'Manufacturer of the Year Award' by the British Pump Manufacturers Association. The Award was presented to KSB managing director Andy Ratcliffe at the annual British Pump Industry dinner on March 22nd, 2012.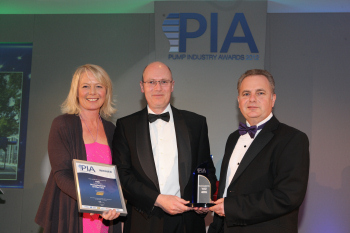 Andy Ratcliffe (centre) is pictured receiving the Award from television and radio presenter Juliet Morris and Colin Ure (right) of John Crane. (Image: KSB)
The title of Manufacturer of the Year is the highest acclaimed celebration of excellence in the pump and related products industry. The winner of the Award is voted for by pump industry peers and pump users in the UK. The BPI Awards dinner is an impressive tribute to the people and companies operating within this market and guests at the event include all major pump manufacturers, together with customers from a broad spectrum of industries. KSB Limited was also a finalist in the 'Environmental Contribution of the Year' category for its Pumps as Turbines (PaTs) solution for generating low cost energy.
"It is gratifying that KSB has been recognised within the pump industry as Manufacturer of the Year 2012," comments Andy Ratcliffe. "Our company works with a team ethic and this Award recognises that we are able to support our customers with motivated people and great products. It is important that the KSB organisation as a whole received recognition."
He continues: "The KSB offering in the UK and Ireland continues to grow despite the difficult economic environment. This was a major influencing factor in the decision we took some months ago to continue to invest in the business by recruiting additional sales application and market specialists. In difficult economic times we believe it is even more important to support our customers. For us this means being available at short notice to advise on making the right product choice from the large KSB portfolio and achieving the most economical solution for the customer's application. Our aim is to support our customers and in so doing develop our business."
The BPMA
For over half a century, the British Pump Manufacturers Association has represented the interests of UK suppliers of liquid pumps and pumping equipment. A member of Europump, the BPMA s prime mission is to influence the business environment in the interests of the competitiveness and profitability of the UK Pump industry through a range of services including commercial, marketing, technical, environmental, education and energy. BPMA members are the leading companies in the field of pumping technology in the UK, with a commitment to product quality and development, value for money, safety and after sales service.