KSB Wins Industry Prize 2012 at Hannover Messe
At this year's Hannover Messe trade fair (23-27 April 2012), Frankenthal-based pump and valve manufacturer KSB featured the SuPremE motor as their stand's main attraction. At the end of the fair's very first day, a special distinction was bestowed on the company for this product in the form of the 2012 Industry Prize in the Power Transmission and Control category.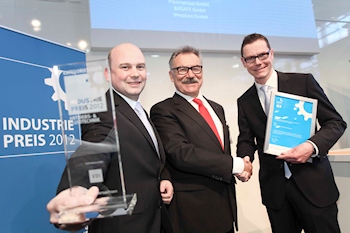 Indusrty Prize 2012 – winner in the Power Transmission and Control category: Dr. Thomas Paulus (KSB), Prof. Dr.-Ing. habil. Bruno O. Braun (VDI), Daniel Gontermann (KSB) (from left) (Image: © Huber Verlag für Neue Medien)
Dr. Thomas Paulus and Daniel Gontermann accepted the award for KSB from VDI President Prof. Dr.-Ing. habil. Bruno O. Braun. A 30-strong jury of experts composed of university professors and technical journalists screened more than 500 candidate products and then awarded prizes to those representing Germany's best, most progressive industrial enterprises.
KSB, an international company headquartered in Frankenthal, Germany, engineered the prize-winning drive and is now producing it in series at their factory in Halle, Germany. In fact, this unique selling proposition was one of the main reasons why KSB received the award. Surely of equal importance, though, was the fact that, unlike conventional drives, this new synchronous motor contains no magnetic materials, e.g., no rare earths. The mining of rare earths – now classed as critical raw materials – is a cause of major damage to the environment in the countries of origin. Nor do these new drives need any failure-prone rotor position sensors. Consequently, they are just as robust and reliable as variable speed asynchronous motors.
Every year since 2006, the Industry Prize has been awarded at Hannover Messe. It now counts among Germany's most prominent industrial awards. Companies of any size can compete, as long as they have products to offer with major technological, economic, ecological or social benefits.