KSB Supports the Development of Bio-based Elastomers
One way of securing the supply of high-quality technical rubbers to industry is to employ plants or other recycled material as feedstock. The BIOPROOF project aims to do just that, and is now being supported by expertise from pump and valve manufacturer KSB.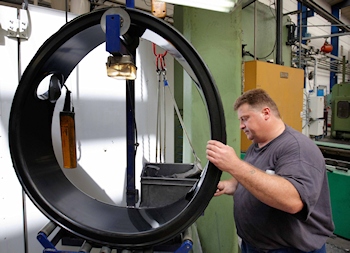 KSB s contribution in support of the BIOPROOF project: its experience in the manufacture and technical application of high-quality elastomer materials. (Image: KSB)
Since 2000, the demand for natural and synthetic rubber has increased by 50 percent. This fact, combined with rising raw material prices especially for crude oil, prompted French companies to launch the BIOPROOF project.
The aim is to strengthen industry s competitiveness by using bio-based or recycled materials. The project started in April 2013 and is planned to run for five years, with 10 well-known companies contributing their expertise.
KSB can provide almost fifty years of know-how in the manufacturing of elastomer liners for its butterfly valves. A total of 420,000 liners are produced annually by the La Roche-Chalais factory. This corresponds to between 200 and 220 tonnes of synthetic rubber in about 40 different formulas. Activities undertaken for the BIOPROOF project include testing of the new materials in laboratories and test facilities by materials specialists who will primarily examine the materials for ecological compatibility and economic efficiency.
This project fits in neatly with KSB's strategy to develop and manufacture high-efficiency, environmentally friendly products.
The partner companies are EFJM, EMAC, GEFFICA, KSB, SACRED, ITC Élastomères, WATTELEZ, MICHELIN and HUTCHINSON.