KSB Receives RWE award
On 11 November 2013, the Frankenthal-based pumps and valves manufacturer received the RWE Supplier Award in the category "Quality Global". The award ceremony took place as part of the sixth RWE Supplier Conference at the congress centre in Essen with around 800 guests present.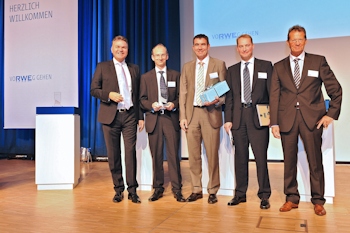 Photo: Award ceremony of the RWE Supplier Award in the category "Quality Global" (Image: KSB)
The selection was made from among the approximately 15,000 suppliers of the RWE Group, one of the largest energy suppliers in Germany with a total sales revenue in excess of 53 billion euros. RWE's Corporate Procurement with its various subdivisions regularly carries out a supplier rating. The prize is awarded annually.
KSB received the award for the quality of its products and the excellent price-performance ratio in a global context. RWE also acknowledged the trouble-free operation, safety and reliability of KSB's pumps and valves. KSB's global presence and high level of service were also viewed positively. KSB has been one of RWE's strategic suppliers for many years. KSB won the Supplier Award for the first time.