KSB Pumps for Vietnam
KSB Aktiengesellschaft, Germany, has been contracted to supply 22 power station pumps for the new Vietnamese Long Phu-1 power plant by September 2017.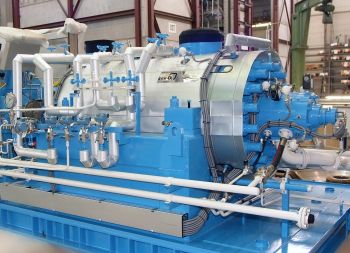 Kesselspeisepumpe vom Typ CHTD, ähnlich wie sie auch im vietnamesischen Kraftwerksneubau Long Phu-1 zum Einsatz kommen werden. (Foto: KSB Aktiengesellschaft)
The plant's two 600-MW units are currently being built by a Russian engineering contractor. The complex is situated 20 kilometres east of Soc Trang city, on the right bank of the Hau River. Included in the order are six boiler feed pump sets. The main and associated booster pumps are driven by 15,200-kW high-voltage electric motors. A geared variable speed coupling installed between the main pump and the motor varies the speed to achieve different operating parameters. Each pump set has been designed for a maximum flow rate of 1200 cubic metres per hour and a head of 4400 m. The boiler feed water temperature is expected to be 175 degrees Celsius. To reduce energy consumption, the seven-stage pumps are equipped with optimised hydraulic systems which have proven their quality many times over. The scope of supply also includes six vertical condensate pumps and four vertical cooling water pumps. All pump sets are supplied complete with electric motors, couplings, base frames and instruments. One of the reasons the Frankenthal-based pump manufacturer received the order was that it had already successfully implemented several other projects in India jointly with the Russian engineering contractor. A further selection criterion was the fact that the pumps are produced at German locations. Following completion in 2018, the new power station will improve the power supply of the surrounding region.