KSB Introduces New High-Pressure Pump Series
In the middle of the year KSB made another addition to its comprehensive pump range: the new compact, cost-effective Comeo type series.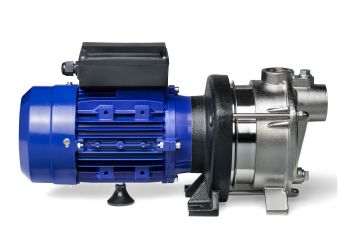 Comeo C, cost-effective high-pressure type series made of stainless steel (Image: KSB Aktiengesellschaft)
The pumps are designed for an operating pressure of 10 bar. They are used for water supply, in small pressure booster systems as well as in light industrial applications. Water treatment is another application covered by this pump series. The stainless steel variant Comeo C is ACS and WRAS approved for drinking water.
The suction and discharge nozzles are cast as a single piece with a choice of stainless steel 1.4308 (Comeo C) or grey cast iron JL1040 (Comeo G). Depending on the required discharge pressure, the pump sets are equipped with two, four or six stages. The sturdy close-coupled design absorbs external piping forces and is suitable for installation in very confined spaces.
Customers can choose between 230 V single-phase and 400 V three-phase current for the close-coupled motors. The drive rating ranges from 0.37 kW to 2.2 kW. A 60-Hertz version is also available for countries outside of Europe. The pumps handle ambient temperatures of - 15 °C and + 55 °C.
With their generously dimensioned shafts, bearings, screwed connections and standardised mechanical seals to EN 12756 the pump sets are suitable for industrial applications and designed for a long service life. The mechanical seal elastomers are made of EPDM or NBR. Resin-impregnated carbon graphite is used for the primary ring and mating ring.