KSB Helps in South-East Asia
People in the region of South-East Asia struck by the tsunami at present need not only food and medicine but, above all, clean drinking water.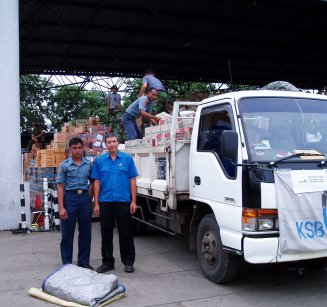 In Indonesia, KSB sent its first shipment of aid with food and clothing to the disaster region of Aceh on the northern tip of Sumatra on 28 December.
As a manufacturer of pumps with its own factories and service centres in India, Indonesia and Thailand, KSB is providing on-the-spot help with technical equipment and services to restore drinking water supplies and it provides pumps and service engineers at a number of places.
In Indonesia and India, KSB is supplying submersible borehole pumps at no charge so that new wells can provide drinking water for the people in Sumatra and the region around Madras. Large submersible motor pumps have been designated for South India and are in the process of being modified for their intended application.
In Aceh, on the northern tip of Sumatra, KSB is also working with a local contractor from Singapore to get a seawater desalination plant built and installed as quickly as possible. This plant, which can supply 100 cubic metres of drinking water a day, requires two high-pressure pumps made of special steel. These pump sets, worth a total € 80,000, are donated by KSB AG. They are specially manufactured in Frankenthal and will then be shipped to the region by air. A further seawater desalination plant in the Maldives is likewise fitted and installed with KSB support.
Apart from these activities, the KSB companies in India, Indonesia and Thailand already provided support in December for aid organizations on the spot with donations of money and the supply of clothing and food (photo). Employees in a number of KSB companies both within and outside the affected region have also shown their engagement with donations of money and further collections are planned.