KSB Group Inaugurated New Foundry in Grovetown (USA)
The pump and valve manufacturer is investing about 75 million US dollars in its US site in Grovetown, of which 40 million US dollars are going to the new foundry. Investments in the KSB subsidiary GIW Industries are to prime the site to meet the mining industry's rising global demand for white cast iron pumps.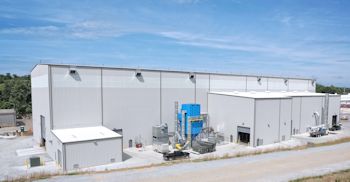 The official opening date of the new GIW foundry was 8 October 2015. With its height of 22 metres is particularly suitable to make components for large slurry pumps. (Image: KSB)
Opened in April, the new facility has been fully operational since this summer and extends to about 4650 square metres. It houses new heat treatment and melting furnaces, sand silos and six cranes. The production building of 22 metres ceiling height is particularly suitable to make components for the large slurry pumps manufactured at the site. The new foundry's capacity exceeds 9000 tons of castings per year, with some of them weighing up to 20 tons.
At the Grovetown and Thomson sites, GIW Industries manufactures mostly heavy-duty pumps and associated equipment for the mining industry. The centrifugal pumps are built to transport a mix of rocks and water and are used in various settings, ranging from mineral processing to waste water treatment.
The company currently employs 614 people and has been part of the KSB Group since 1988.