KSB Expands its Chemical Pump Series
KSB SE & Co. KGaA has added 19 sizes to its MegaCPK type series. This means that users can now choose from 55 sizes with more than 78 hydraulic systems for these standardised chemical pumps. The available materials of grey cast iron, nodular cast iron and cast steel, stainless steel as well as duplex and special alloys, such as titanium and Hastelloy, result in a very wide range of applications.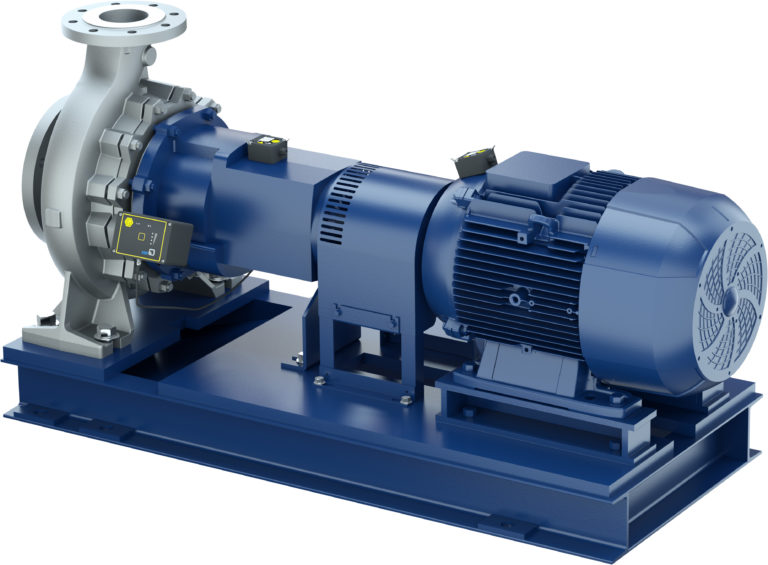 The Mega CPK series of standardised chemical pumps has been expanded to include 19 more sizes. (Image source: KSB SE & Co. KGaA)
Fluids that require heating or cooling can also be handled.
The pumps are characterised primarily by their high output per size and their low energy consumption. Not only does save on electricity consumption, it also reduces the user's initial investment costs. KSB's developers have placed particular emphasis on good suction behaviour, with a low NPSH value in order to minimise the risk of cavitation. This enables smooth and stable pump operation even under difficult operat­ing conditions. It also ensures a high degree of reliability and improves the availability of an entire system.
By using the finite element method, a calculation method for the simulation of solids, the developers were able to achieve a high degree of strength and rigidity of the installed components, while at the same time optimising the use of materials. After optimising all hydraulic contours using computational fluid dynamics, the improvements were verified in extensive test set-ups.
The new seal chamber design allows the installation of gland packings, all common mechanical seals compliant with EN 12756, as well as a large number of cartridge-type mechanical seals. Fully confined casing gaskets and minimised axial thrust ensure long service life. To control and monitor operation, the pumps can be equipped with speed control, vibration and bearing temperature measurement and operating point monitoring.
In line with KSB's common practice for industrial pumps, every pump is supplied to the customer with the impeller diameter trimmed exactly to the duty point. Impeller trimming, combined with the large range of pump sizes, helps ensure that the pump's energy consumption is kept to the minimum necessary, even when run at fixed speed.