KSB at IFAT 2005 in Munich
At this year's IFAT trade fair in Munich, German pumps and valves manufacturer KSB will present its new Amarex KRT submersible motor pumps whose salient features are increased reliability and improved efficiencies.
The new models of this type series designed for handling municipal and industrial waste water feature a closed jacket cooling system around the motor. Thanks to the closed cooling jacket, the motor heat is dissipated by the fluid handled, whether the motor is submerged in the fluid or not, resulting in optimum heat dissipation under all operating conditions. A separate water/glycol circuit transports the heat from the cooling jacket to the fluid-cooled section of the pump casing. As there is no hydraulic connection with the fluid handled, the cooling circuit cannot be contaminated. The new models are suitable for both dry- and wet-well installation.
A moisture sensor installed in a leakage chamber signals any mechanical seal defects and thus helps to prevent costly consequential damage. Thanks to their reliable cooling technology and motors in thermal class H, these pump units provide smooth, long service and thus entail low operating costs. Optional equipment for early failure detection and remote monitoring (PumpExpert) makes for economically efficient pump operation and reduces the number of staff required for servicing.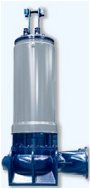 Photo 1: The new submersible motor pumps of the Amarex KRT series with closed jacket motor cooling. (Photo credit: KSB Aktiengesellschaft, Frankenthal)
Another important exhibit of pumps and valves manufacturer KSB will be the new "PumpDrive" speed control system. As a pioneer in large, variable speed pump drive design, the company will present its latest generation of speed control systems for ratings from 0.55 to 45 kW. The new "PumpDrive" can be directly mounted to the motor, to the wall or in a control cabinet and is available in assorted variants kitted out with optional functions. Several units are able to communicate with each other, allowing the user to operate several pumps at the same time by means of the integrated control feature. KSB is the only manufacturer currently offering a motor-mounted speed control system for pumps up to a rating of 45 kW.
Photo 2: The new "PumpDrive" can be directly mounted to the motor, the wall or in a control cabinet. (Photo credit: KSB Aktiengesellschaft, Frankenthal)
The trade fair will also see the debut of the new range of Movitec high-pressure pumps. They represent the advanced versions of the tried and tested Movichrom series and are provided with as many as nine different hydraulic systems. As all wetted components are made from corrosion-resistant stainless steel (1.4301 or 1.4004), these pumps can be employed universally and are suitable for use in applications requiring high discharge pressures.