KSB at Bauma 2007
KSB's comprehensive pump and valve programme for mining applications was on show at BAUMA 2007 (23 to 29 April). KSB has combined its own corrosion and abrasion resistant materials- developed in-house- with the powerful, heavy-duty mining pumps of its subsidiary, GIW, based in Grovetown, USA.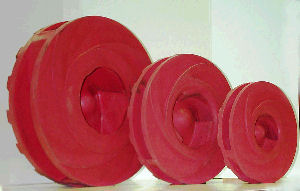 At this year's BAUMA in Munich, the KSB Group will debut its new, rubber-lined impellers for slurry pumps designed on the same hydraulic principles as metal impellers (Photo:KSB Aktiengesellschaft, Frankenthal)
This company has been producing slurry pumps for more than 90 years and is one of the world's leading manufacturers. Whether it be ores or coal in Russia or tar sand in Canada, these sturdy pieces of equipment transport watery mixtures which are often extremely high in solids. The KSB Group will present new rubber-lined impellers for their tried and tested slurry pumps for the first time in Europe.
Employing the design principles of the advanced hydraulics for metal pumps, engineers have succeeded in transferring the efficiency of a metal impeller into the rubber-lined version. KSB products manufactured in Europe and long-established in the global mining sector will, of course, also be showcased at BAUMA 2007. A prime example is the horizontal, dry-installed volute casing pumps series KWP. Available in a number of impeller geometries, they handle sewage and slurries as well as pulps.
The explosion-proof submersible motor pump Amarex KRT, which will also be presented, is available in stationary and transportable design for wet or dry installation. Its primary task is to handle untreated waste water with long fibres and solid substances, including fluids containing gas as well as raw, activated and digested sludge.
Information about the company
KSB is one of the world's leading manufacturers of pumps, valves and related systems for industrial applications and building services, for water and waste water management and for the energy and mining sectors. The Group has a presence on all five continents with its own sales and marketing organizations, manufacturing facilities and service operations. With its workforce of 13,000 worldwide, the KSB Group records sales of approximately € 1,400m.
More information you can find on www.ksb.com