K&R Pompen B.V. presents a re-newed self-priming centrifugal pump at Pumps & Valves 2002
The SA(E)N-3100 model is a totally re-newed self-priming centrifugal pump, based on the original "SA(E)"-models. The construction of the pump is one with an open impeller, exchangeable wearplate, stainless steel shaft and a mechanical seal as shaft sealing.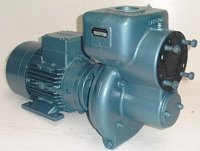 (Source: K&R Pompen B.V.)
The advantage of this pump is the quick replacement with former "SA/SAE" models. For applications of this pump you can think of bilge, ballast, general service and (emergency) firepump. The connections of the pump is 3" with a capacity of max 65 m³/h and max 5,5 bar. Pump can also be delivered in complete bronze and diesel driven.
The re-newed of this pump is that the pump is simple in construction and consists less parts and will thus reduce your costs.
About K&R Pompen B.V.
K&R Pompen B.V. (since 1-5-2002 a part of the Desmi group) is a technical wholesaler specialising in the development of pumps and the purchase and sale of pumps, motors, bilge-water purifiers and related items. Desmi K&R Pompen is represented in Belgium bij Ammertecht in Antwerp.